Schumer Proposes 'No Ride' List for Train Travelers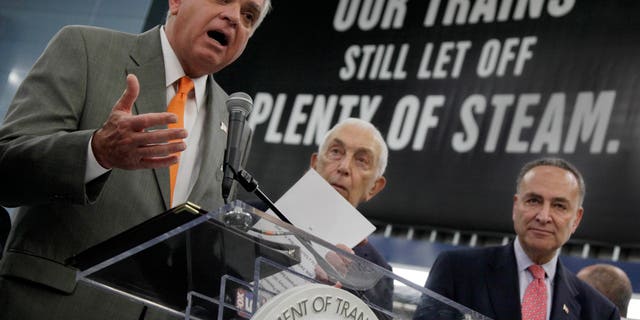 NEWYou can now listen to Fox News articles!
A "glaring loophole" in security of the nation's rail system demands that Amtrak begin much tougher scrutiny of passengers before boarding, New York Sen. Chuck Schumer said Monday, proposing a "no ride" list similar to airlines' "no fly" lists.
Schumer suggested a new screening process would be relatively simple to implement. Passengers already have to give their name when purchasing tickets for the train, but Schumer's plan would call for riders to show photo ID before boarding. The IDs would be compared to the name on their ticket and matched against a list of known or suspected terrorists.
If there's a match, that passenger would be prevented from traveling.
"Anyone, even a member of Al Qaeda, could purchase a train trip ticket and board an Amtrak train without so much as a question from an official," Schumer, a Democrat, said.
Train security is under greater scrutiny now after intelligence officials say they recovered information from the deadly raid last week on Usama Bin Laden's compound. The data reveal the early stages of a plot to target trains on the 10-year anniversary of the Sept. 11, 2001, terror attacks.
Schumer pledged to make ID checks on trains a priority.
"We need to work as hard as we can to make this happen as soon as possible," he said.
White House spokesman Jay Carney would not say whether the administration would endorse Schumer's proposal.
"We are hyper-vigilant as ever, but even moreso in the wake of" the intelligence retrieval, Carney said, adding, "There are measures that are taken, seen and unseen every day to improve our security, transportation security, by rail as by air."
Schumer's proposal stole some of the thunder from a previously scheduled news conference this morning in New York City's Penn Station, where U.S. Transportation Secretary Ray LaHood announced the distribution of more than $2 billion in federal grant money for high-speed rail projects in 15 states, including nearly $800 million to improve tracks, stations and trains in the Northeast corridor.
The money was originally intended to help build high-speed trains in Florida, starting with a Tampa to Orlando line, but Florida Gov. Rick Scott rejected the funds, saying taxpayers would be stuck footing the bill for cost overruns and that rider estimates were too ambitious.
Schumer, who attended LaHood's morning event, said "Florida's loss is New York's gain."
LaHood said the money will result in much better service, including boosting current 125 mph top speeds to 160 mph along critical stretches, reducing power failures, upgrading tracks and stations and eliminating bottlenecks.
But many of the questions at the news conference were about security, not higher speeds. LaHood sought to reassure Americans travelers that train transportation are safe.
"I would tell them to do what I did last night. I got on the train at Union Station (in Washington, D.C.) and took it to Penn Station. I saw security, I saw security measures in place. I believe riding trains is very safe. I did it last night."
But LaHood said his department would take a look at a lot of issues suggested by Schumer, and work with Congress to address Schumer's claim that any member of al Qaeda could board a train without being stopped or questioned.
"I rode a train last night. It took three hours to get here. It was very safe. Riding trains is safe in America," LaHood said.
From Manhattan, the secretary then headed out to catch a plane to Detroit to announce another high speed rail project, reducing travel times between the Motor City and Chicago.