Schumer hits Trump for 'politicizing' NYC attack - but he did same thing after Las Vegas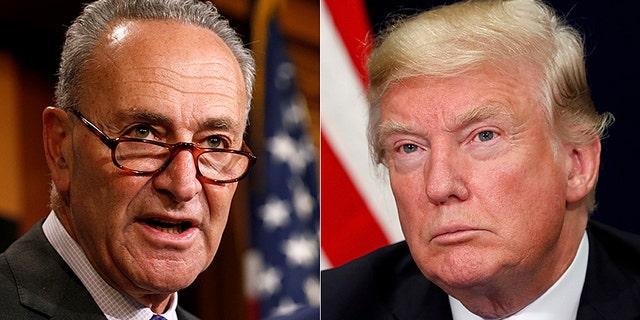 Senate Minority Leader Chuck Schumer is hitting President Trump for "politicizing" the terror attack in New York City – though the Democrat did the same thing after last month's grisly Las Vegas massacre when he called for new gun control measures.
"President Trump, instead of politicizing and dividing America, which he always seems to do at times of national tragedy, should be focusing on the real solution - anti-terrorism funding - which he proposed cutting in his most recent budget," Schumer said in a statement Wednesday.
Responding to Tuesday's attack in Lower Manhattan, where eight people died and 11 were injured, the president said he ordered the Department of Homeland Security to "step up" his "extreme vetting program" for new immigrants entering the United States. He also blasted the Diversity Visa Lottery Program, which suspect Sayfullo Saipov used to enter the country in 2010, referring to it as a "Chuck Schumer beauty."
NYC ATTACK: TRUMP CALLS FOR STRONGER 'EXTREME VETTING'
"I want merit based," the president tweeted of the country's immigration system, saying he's opposed to "Democrat lottery systems" for deciding who admit to the country.
Schumer then sarcastically responded to the president by quipping: "I guess it's not too soon to politicize a tragedy."
That was in reference to how after last month's mass shooting in Las Vegas, Schumer and Democrats were criticized by conservatives after calling on lawmakers to pass gun control.
"What Congress can do; what Congress must do; is pass laws that keep our citizens safe. And that starts with laws that help prevent guns, especially the most dangerous guns, from falling into the wrong hands," Schumer said at the time.
Democrats like Schumer took heat from Republicans for those calls.
"I think it's particularly inappropriate to politicize an event like this," McConnell said after the Las Vegas shooting. "It just happened in the last day and a half."