Schumer Gets Tough on 'Honey Launderers' as FDA Seizes Illegal Shipment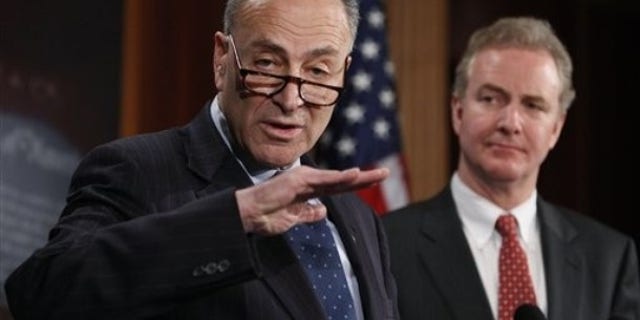 As Sen. Charles Schumer, D-N.Y., leads the charge for a crackdown on "honey launderers" in China, the U.S. Food and Drug Administration announced the seizure of 64 drums -- or $32,000 worth -- of imported Chinese honey that was contaminated with a potent antibiotic that can be lethal.
Federal marshals seized the honey last week at a distribution center in Philadelphia after it was imported by a Chinese company to California and later sold to a business in Chicago that placed it in storage.
FDA testing found that the honey contained chloramphenicol, a potent antibiotic drug that is approved only for people with serious infections when other less toxic drugs won't work. People who are sensitive to this drug can develop a type of bone marrow depression called aplastic anemia, which can be fatal, the FDA said.
"Unapproved food additives in the U.S. food supply are of significant concern to the agency," said Michael Chappell, the FDA's acting associate commissioner for regulatory affairs. "The FDA took this action because of the potential serious public health effects of this product."
Schumer, who is pushing for a national standard for pure honey to sting fraudulent imports from China that are hurting an American honey market valued at up to $12 billion, praised the FDA for its actions but called for a larger sweep of honey shipments entering the country.
"The fact that the FDA was able to move this quickly shows that this is just the tip of the iceberg when it comes to honey laundering," he said in a written statement. "We urge the FDA to do a large-scale sweep of similar shipments from China because we are sure they will find many more illegal batches of smuggled honey."
Schumer is asking the federal food and drug commissioner for a standard that would halt imports of adulterated or mislabeled honey from abroad. Florida and Wisconsin have enacted their own pure honey standards, with other states preparing similar legislation to protect their markets.
A Chinese executive pleaded guilty in August to a federal charge he conspired to smuggle adulterated honey into the United States. That case in Seattle was one of two such criminal cases filed last year.
Schumer said Wednesday that more than 144 million pounds of honey is produced each year in the U.S. The Democrat said losses are as much as $200 million a year in the U.S.
Schumer is also introducing legislation that would provide greater enforcement power at customs offices along borders.
The Associated Press contributed to this report.