Scalise downgrade a reminder things aren't quite back to normal, despite sense of calm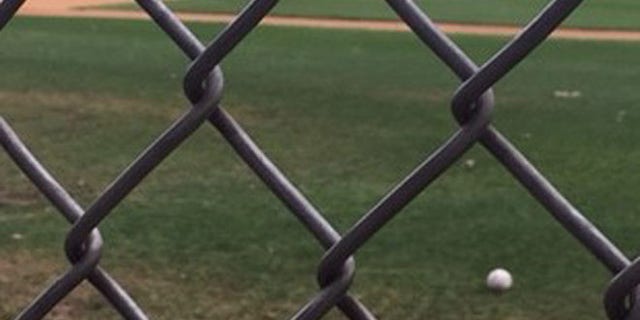 NEWYou can now listen to Fox News articles!
Someone forgot the baseball.
It just sits there in the grass in foul ground. The ball rests up the third base line not far home plate.
There's no one on the diamond at Eugene Simpson Stadium in Alexandria, Va. A padlock secures a gate near the third base dugout. Stray leaves and tan hot dog wrappers litter the infield, broadcast about the dirt by the wind.
People tote ears of corn and jugs of milk to their cars from the nearby Aldi grocery store across the street. A man exits Swing's Coffee up the block, a helix of steam convecting from his cup and into the air. Someone swings a stapled-closed prescription bag they just collected at the CVS.
A shaggy brown pup prances about the dog park past the right field line, enclosed by a chain-link fence. Its owner wears a tank top and talks with another dog owner.
All is normal in Alexandria, Va., it seems.
But nothing was right in Alexandria on the morning of June 14.
Congressional Republicans had just taken the field for their final practice before the annual charity baseball game against the Democrats at Nationals Park.
You wouldn't know that now.
On Wednesday night, everyone was reminded of the pandemonium that pierced an otherwise normal morning in the Washington suburbs. Word came that doctors downgraded the condition of House Majority Whip Steve Scalise, R-La.
More than three weeks after the shooting, physicians at MedStar Washington Hospital Center shifted Scalise's condition to "serious" from "fair." Scalise developed an infection. As a result, they returned the Louisiana Republican to the Intensive Care Unit. Scalise hadn't yet suffered an infection.
Sources close to Scalise remind Fox News that from the start, doctors said the whip's recovery would have ups and downs. Such was the case last night. Scalise's condition rekindled emotions and memories of what unfolded a few weeks ago.
A visit this week to Eugene Simpson Stadium didn't reveal the malevolence that tore through a city ball diamond. That bedlam strafed the heart of the nation's legislative branch and law enforcement community – to say nothing of the summer therapy provided by the national pastime.
You can start at second base.
No one would otherwise remember that Scalise played second base. People conjure names like Rogers Hornsby, Joe Morgan and Ryne Sandberg when they think of the game's best second sackers. But now everyone remembers that Scalise played second when James Hodgkinson opened fire with a 7.62 mm caliber rifle.
Head to Eugene Simpson Stadium now, and you'd never know what hell punctured a simple baseball practice. Rep. Trent Kelly, R-Miss., was playing third and barked "gun!" as soon as Hodgkinson began his attack near the visitor's bullpen. People diving for cover in the first base dugout. Congressional aide Zachary Barth taking a bullet. Tyson Food lobbyist Matt Mika taking multiple bullets. U.S. Capitol Police officers Crystal Griner and David Bailey taking bullets and shrapnel.
You'd never know Alexandria Police Chief Michael Brown described the heroism of Alexandria Officer Nicole Battaglia. Brown said Battaglia jumped "out of the car, without cover" and moved "towards the firefight. Not away from it, towards it to the point where she was actually pinned down in the parking lot with a barrage of weapon fire from the shooter." Brown added that Battaglia's bold maneuver "alone, probably, in my opinion diverted the shooter away from the other officers."
Go to the ballfield today and you'd never know that Battaglia's gamble enabled other officers to shoot and kill Hodgkinson by the third base bleachers.
Back at second base, you'd never know that Reps. Michael Conaway, R-Texas and Brad Wenstrup, R-Ohio -- a physician -- tended to Scalise who had now crawled into short right field.
Seeing the dogs romp in the park, you'd never know that Daphne, a black and white pointer mix, dashed away from that same dog run, petrified by the gunshots. You'd never know that an Alexandria Police officer found Daphne the day after the shooting and returned the pooch to her pet sitter. Daphne's owner had been out of town.
You'd never know about the business lost at the Aldi, the CVS or at Swing's, which had just roasted a fresh batch of coffee on that hot, sunny morning.
You'd never know that bullets pulverized windows of the YMCA, yawing as they splashed into the swimming pool.
You'd never know that more than an hour after the shooting, an eight-year-old girl exited a nearby house with her mother. The girl saw the commotion and the fleet of police cruisers, fire trucks and ambulances parked near her house. The girl spied reporters and and news photographers loping up Monroe Street, wielding cameras like shoulder-mounted surface-to-air batteries.
"Mom, I'm scared!" said the girl.
You'd never know that she was scared because the tranquility that usually blankets the Del Ray neighborhood of Alexandria has now returned.
You'd never know that the Republican team left bats, balls, gloves, chest protectors and donut rings strewn about the diamond as they fled to safety.
Yet on this day, a singular baseball pushed itself up among the blades of grass in foul territory like a marigold at springtime. The Congressional Republican team didn't leave behind this ball. You wouldn't know who left behind this ball, still white but clearly scuffed.
You wouldn't know what went on at Eugene Simpson Stadium if you didn't know what went on there last month.
People play baseball there again now. People walk their dogs there again. People get coffee, go to the pharmacy, head to the grocery and swim at the Y.
Everything's normal.
But not quite.
The wounded still recover from their injuries. One can only imagine how the scene plays on a loop in the minds of David Bailey, Crystal Griner, Nicole Battaglia and other cops who sped to the scene.
The baseball sits in the grass like things are back to normal. Steve Scalise lies in the hospital in serious condition with an infection.
Things aren't normal just yet.
Capitol Attitude is a weekly column written by members of the Fox News Capitol Hill team. Their articles take you inside the halls of Congress, and cover the spectrum of policy issues being introduced, debated and voted on there.