Biden vows resurgence after Sanders' win in Nevada: 'I'm going to take this back!'
NEWYou can now listen to Fox News articles!
LAS VEGAS – Vermont Sen. Bernie Sanders is the winner of the Nevada caucuses, according to a Fox News projection. But rival Democratic presidential candidate Joe Biden sought to portray himself as Sanders' chief rival as results showed him in second place.
"You all did it for me now, now we go to South Carolina and I'm going to take this back!" Biden told supporters gathered at a union hall in North Las Vegas, Nevada.
After Biden suffered disappointing fourth and fifth place finishes in the overwhelmingly white Iowa caucuses and New Hampshire primary, a stronger perfomance in Nevada's much more diverse electorate was a necessity for the former vice president.
"No final results yet but I feel pretty good," Biden told the crowd. "The press is ready to declare people dead quickly but we're coming back and we're going to win."
And an exuberant Biden stressed that "we're ready in a position now than we haven't been until this moment. We're going to win in South Carolina and then Super Tuesday."
Biden highlighted that "I'm a Democrat and I'm proud of it."
That was an indirect shot at Sanders - an independent senator who's aligned with the Democrats in the Senate - who describes himself as a Democratic Socialist. And it also appeared to be a jab at another rival - former New York City Mayor Mike Bloomberg - a Republican turned independent turned Democrat.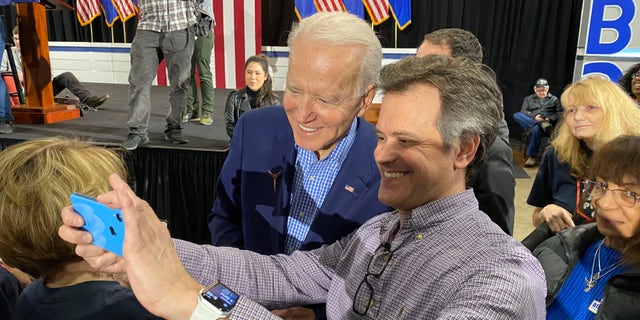 Moments later, Biden landed another jab at Sanders, saying he was "proud to run with Barack Obama. I'm proud to still be his friend and I tell you what, I promise you I wasn't planning on running a Democratic primary against him in 2012."
Sanders quietly mulled a primary challenge against Obama as he ran for re-election in 2012.
Earlier in the day, Biden touted that he could beat Sanders even as the senator keeps racking up early primary victories.
"I beat him by going on – just moving on," the former vice president told reporters at a stop at a precinct in Henderson, Nevada minutes before the start of the caucuses.
Sanders – who's making his second straight White House run – is now two for two after winning a week and a half ago in New Hampshire's primary. Sanders also won the raw popular vote total in the Iowa caucuses, but slightly trails former South Bend, Indiana Mayor Pete Buttigieg in the delegate percentage.
THE LATEST FROM FOX NEWS ON THE 2020 PRESIDENTIAL CAMPAIGN
Asked how he can beat Sanders for the nomination, Biden argued that "one of the things that is going on here is that.. people want to know who's most likely to beat down Trump."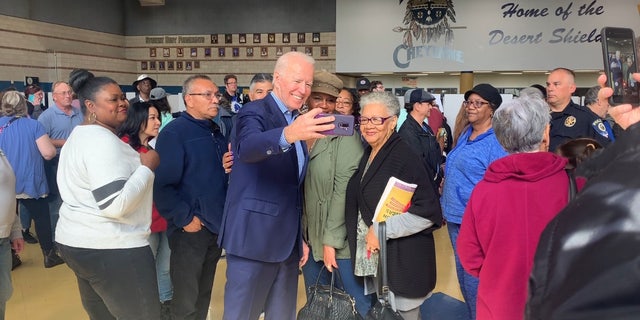 The former vice president spotlighted that polls that show him trailing Sanders and Buttigieg in the Democratic nomination race "show me being the one that is most likely to be able to be Trump. And so, look, I look, we have to win, number one. Number two, we have to be able to keep a Democratic House. Number two, we've got to pick up seats in Democratic Senate. And I think just people are now just beginning to focus on that from North Carolina to Pennsylvania and from Arizona to Wisconsin."
But the entrance polls in Nevada suggested that Sanders had a slight edge over Biden on electabilty.