Sanders to address Latino gathering being skipped by Clinton and Trump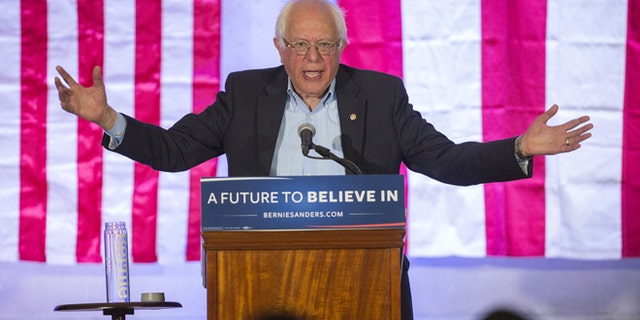 NEWYou can now listen to Fox News articles!
Bernie Sanders is expected to address the largest annual gathering of Latino policy makers in Washington, D.C., according to the event's coordinators, who have criticized presumptive presidential nominees, Hillary Clinton and Donald Trump, for skipping it.
A statement about Sanders' appearance released by the National Association of Latino Elected and Appointed Officials (NALEO), a nonpartisan group, said that more than 1,000 Latino elected and appointed officials and national leaders from across the country are expected to attend the three-day conference that begins Thursday and ends Saturday.
A NALEO said Sanders is schedule to speak at 8:30 Thursday morning.
Earlier this week, the group's officials took Sanders' Democratic rival, Clinton, and Trump to task for not committing to attending the conference – a rarity, they pointed out, for presidential candidates during an election year.
NALEO's executive director, Arturo Vargas, said in a statement that a no-show by the presumptive presidential nominees was tantamount to a "slap in the face to the (Latino) community."
Hispanic voters have increasingly been a target of political candidates as their numbers have grown steadily.
The Latino electorate is projected to reach 27.3 million eligible voters in 2016, up from 19.5 million in 2008, according to Pew Hispanic Research. The total Latino population in the United States is about 53 million.
The group is believed to have played a significant part in Obama's defeat of Republican candidate Mitt Romney in 2012, when the president received 70 percent of the Latino vote compared to the former Massachusetts governor's 27 percent.
"The reasons for them to be there are so obvious that it is truly a slap in the face to the community," Vargas said of Clinton and Trump.
"These are the people running counties and school districts and overseeing police and fire departments, and they need to hear from these candidates," Vargas said, describing those who will be attending.
He added, "Not addressing NALEO would create the impression of them being tone deaf."
Vargas told the Wall Street Journal that invitations were sent last year to the presidential candidates to address the NALEO convention.
In the last two presidential elections, both Obama and his GOP opponents – Romney in 2012 and McCain in 2008 – all addressed NALEO's annual conference. Clinton addressed the gathering in 2008 when she ran unsuccessfully against Obama for the Democratic nomination.
Besides Sanders, former New Mexico Governor and Libertarian presidential nominee Gary Johnson also is expected to address the convention, the organization said in a statement.
The Clinton campaign's Latino outreach official, Lorella Praeli, told the Journal, "The campaign will continue to ramp up efforts to engage the Latino community through various platforms to discuss Clinton's plans to help Latino families and highlight how Trump is temperamentally unfit to be president."
Like us on Facebook
Follow us on Twitter & Instagram