Sanders' single-payer bill causing headaches for Dems in 2018 midterms
One of the latest hints of support for Bernie Sanders' single-payer health care plan came not from a liberal enclave like San Francisco or Brooklyn – but from West Virginia's senior senator, Joe Manchin.
The proposal "should be explored," Manchin told Bloomberg News earlier this month, while clarifying that the Senate should consider all options and that he's "skeptical" single payer is the "right solution."
While the statement from Manchin – whose state overwhelmingly backed President Trump last fall – was cautious, the senator's willingness to even consider Sanders' costly health bill shows how the legislation has caused major political complications for Democratic congressional candidates.
Not so long ago, moderate Democrats avoided single payer at all costs. Now, to use the parlance of the left, it has been "normalized." The bill, introduced last week, already has been cast as a litmus test for Democrats eyeing a White House run. And well before 2020, Democratic candidates will face pressure from the liberal flank to get behind the bill in exchange for support in the 2018 midterms.
Manchin – an unlikely ally for single payer, but also one of the most vulnerable Democrats in 2018 – is just one candidate who could find himself torn between the party's national activist base and his state's constituents on the proposal, estimated to cost tens of trillions over a decade.
SINGLE-PAYER HEALTH CARE: WHAT IS IT?
Other Democratic senators expected to face close races are:
Heidi Heitkamp of North Dakota, Claire McCaskill of Missouri, Joe Donnelly of Indiana and Jon Tester of Montana -- all from red states that Trump carried by double digits in the 2016 presidential race.
Democrats also are defending Senate seats in states that Trump won by tighter margins, such as Florida, Ohio, Michigan, Pennsylvania and Wisconsin.
Some Democrats facing re-election in Trump states have spoken out publicly on single payer.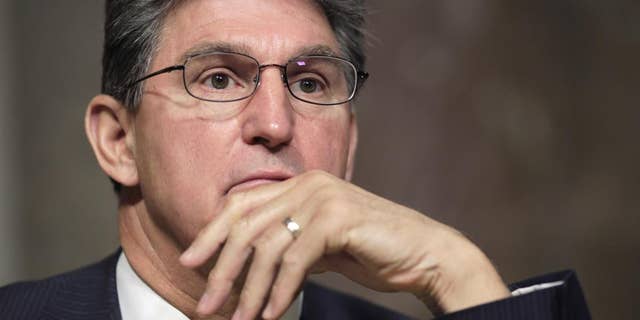 Heitkamp said her chief focus is preserving the Affordable Care Act, better known as ObamaCare. Sen. Sherrod Brown, D-Ohio, is pushing legislation to expand Medicare to people who are 55 and up.
But Sen. Tammy Baldwin, D-Wis., is all in for Sanders' bill, tweeting, "I'm proud to announce I'm co-sponsoring @BernieSanders' Medicare for All bill. Sign if you're with me!"
After an impressive showing in the 2016 Democratic presidential primary, Sanders, a Vermont independent who caucuses with Democrats, gained 16 co-sponsors for his legislation. This includes possible 2020 presidential contenders Sens. Elizabeth Warren of Massachusetts, Cory Booker of New Jersey, Kirsten Gillibrand of New York, and Kamala Harris of California.
'Democrats must come clean on whether they back Sanders' plan for government-run health care, or if they will stand with taxpayers against this unrealistic boondoggle.'
The liberal MoveOn.org pointed out that Sanders pushed the same bill two years ago with zero supporters. The same group also touted the nod from Sen. Manchin.
"[I]t isn't just liberal Democrats from deep blue states getting on board. Joe Manchin of West Virginia—a state Donald Trump carried by 42 points—says it should be explored as well. Joe Manchin!" the group boasted in a fundraising email.
Republicans seem as gleeful as MoveOn.org, for different reasons.
"Bernie Sanders' $32 trillion socialist health care plan will force Senate Democrats to choose between liberal activists and common sense," Katie Martin, communications director for the National Republican Senatorial Committee, said in a statement. "Democrats must come clean on whether they back Sanders' plan for government-run health care, or if they will stand with taxpayers against this unrealistic boondoggle."
The cost of 'free' health care
The Sanders bill has zero chance of passing in a Republican Congress.
But here's what it proposes to do:
-Expand Medicare to pay for everyone's emergency surgery, prescription drugs, mental health and eye care with no co-pay.
-Phase Americans into Medicare, meaning those with employer-plans would get Medicare.
- Allow private companies to be used for elective treatments.
The latest Sanders bill did not come with an official cost estimate.
On Sept. 12, the Committee for a Responsible Federal Budget, a bipartisan fiscal watchdog group, determined the plan would cost $25 trillion over the next decade, basing its estimate on the Sanders campaign proposal. The additional taxes Sanders has talked about would raise $11 trillion in revenue, leaving the remaining $14 trillion added to the national debt, the organization estimates.
The Urban Institute, a left-leaning think tank, did an analysis of the Sanders campaign plan in May 2016 and determined it would cost $32 trillion over a decade. Further, the institute determined that even after the tax increases, revenue still falls short by $16.6 trillion.
Sanders proposes options that include imposing a 7.5 percent tax hike on employers and raising the top income tax rate to 52 percent for incomes of more than $10 million.
Grace Marie Turner, president of the Galen Institute, a free market health care research group, said the problems with ObamaCare will make it nearly impossible to sell voters on more government in health care. She noted a single-payer plan collapsed in Sanders' home state of Vermont.
"They may promise you can have everything, but people will no longer believe that," Turner told Fox News.
Single-payer politics in 2018
When the "skinny repeal" of ObamaCare came up in July, Sen. Steve Daines, R-Mont., sponsored a single-payer proposal – but only to force Democrats on the record.
It was not exactly popular at the time. Forty-three of 48 Democrats voted present. Voting no were Donnelly, Heitkamp, Manchin, Tester and Sen. Angus King, a Maine independent who caucuses with Democrats.
Tester's campaign said the senator has been clear in his opposition to single payer.
"He's also made clear that too many Montanans are paying too much for health care, which is why he is fighting to improve the current health care system to lower costs for Montana families," Tester campaign manager Christie Roberts told Fox News.
Both the Cook Political Report and Inside Elections rank Missouri, Indiana and West Virginia as tossups. Inside Elections ranks North Dakota as a tossup, while Cook says the race leans Democrat. Both consider Montana to be advantage Democrat.
"Whether or not a Democrat supports Sanders' legislation, this is a party issue, meaning that a Democrat is likely to be called out over supporting or opposing the legislation in a primary rather than a general election," Jennifer Duffy, senior editor for the Cook Political report, told Fox News.
Republicans will likely hold the issue against Baldwin in Wisconsin, said Duffy, who expects other Trump-state Democrats to oppose the legislation.
Seeing an opportunity in these red states, some GOP primaries are quite crowded.
Missouri Attorney General Josh Hawley leads the pack of five other Republicans running to challenge McCaskill.
In Indiana, U.S. House members Luke Messer and Todd Rokita are among seven Republicans hoping to challenge Donnelly in November 2018.
North Dakota state Sen. Tom Campbell appears the likely Republican opponent for Heitkamp.
Manchin's likely Republican challenger is West Virginia Attorney General Patrick Morrissey, but others are considering a run.
Both the Cook Political Report and Inside Elections still consider Trump states Florida, Michigan, Montana, Ohio, Pennsylvania and Wisconsin to be likely or leaning Democrat in the 2018 Senate races.