Sanders picks up major union endorsement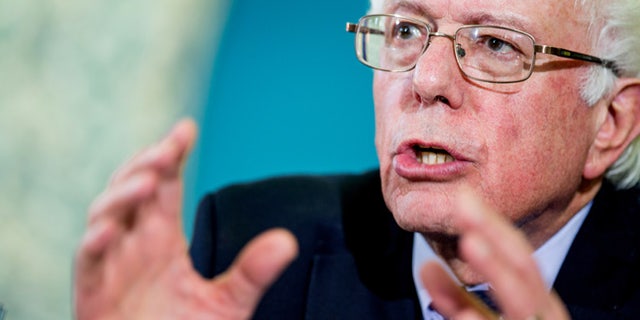 NEWYou can now listen to Fox News articles!
Sen. Bernie Sanders won his biggest public sector union endorsement of his presidential campaign on Thursday when he picked up the support of the Communications Workers of America.
The CWA – the largest communications and media union in America -- chose to back the Democratic 2016 hopeful and self-described democratic socialist in an announcement released Thursday morning, saying that Sanders' call for a political revolution is "just what America needs."
"CWA members have made a clear choice and a bold stand in endorsing Bernie Sanders for President," CWA President Chris Shelton said in a statement. "Our politics and economy have favored Wall Street, the wealthy and powerful for too long. CWA members, like voters across America, are saying we can no longer afford business as usual. Bernie has called for a political revolution – and that is just what Americans need today."
CWA, which had previously backed then-Senator Obama in 2008 and again in 2012, represents approximately 700,000 workers in fields such as journalism, telecommunications, airlines and higher education.
The union said the decision was made after a three-month process that included worksite meetings and an online vote.
The endorsement was expected, in part because the organization's former president Larry Cohen has worked as an unpaid adviser to Sanders, I-Vt. Also, the CWA has opposed the Trans Pacific Partnership trade agreement – an issue that Sanders has made a focus of his campaign.
The endorsement gives Sanders a boost ahead of Saturday's third Democratic presidential debate in New Hampshire, amid polls that show him trailing frontrunner Hillary Clinton by widening margins.
In another move to project momentum, the Sanders campaign announced that it had received 2 million financial contributions from supporters, and has picked up $3 million in contributions since Monday.
The CWA is the third union to back Sanders. He already has the support of the American Postal Workers' Union and National Nurses United. Meanwhile Clinton has picked up the endorsement of 20 labor unions, including the National Education Association and the highly influential Service Employees International Union.
Sander also received another endorsement Thursday in Democracy for America -- a group founded by Howard Dean out of his 2004 campaign. The endorsement came despite a letter from Dean urging them to endorse Clinton.
The Associated Press contributed to this report.