San Diego backs off ban of 'gender-biased' term 'Founding Fathers'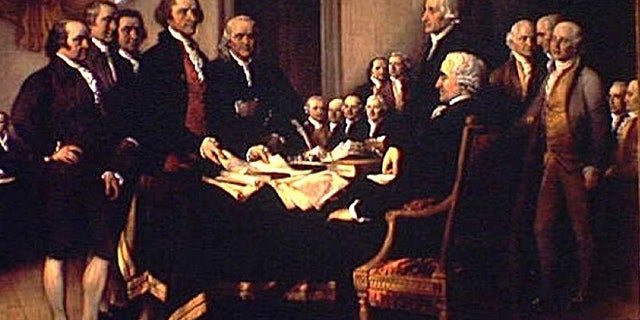 NEWYou can now listen to Fox News articles!
San Diego officials have walked back a warning to city workers ahead of President's Day not to drop any F-bombs -- as in the phrase "Founding Fathers."
The traditional reference to America's patriotic patriarchs was an example of "gender biased" language in a city manual, and the admonition not to use it was reinforced this week with verbal orders, according to legal watchdog group, Pacific Justice Institute.
"We cannot allow this type of censorship and PC insanity to destroy our free speech."
"At a time set aside to honor American icons to whom we owe our constitutional freedoms, it is offensive and indefensible that the City of San Diego is directing employees not to even mention the Founding Fathers," Brad Dacus, president of the Pacific Justice Institute, said in a statement provided to FoxNews.com.
The warning against referring to Washington, Jefferson, Adams and company as "Founding Fathers" first appeared in a section of a city-issued manual titled, "Bias-Free Language."
Mayor Kevin Faulconer said in a tweet Wednesday that he put a stop to the matter as soon as he heard about it, ordering the passage removed and the manual scrubbed for any remaining similar examples.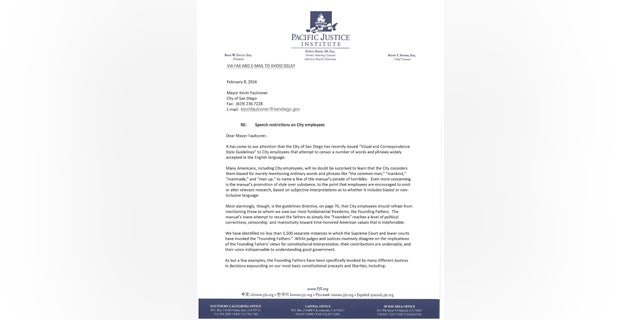 "Suggesting that our Founding Fathers should be referred to as "Founders" is political correctness run amok," Faulconer tweeted. "We are proud of our nation's history and there is nothing wrong with referring to the Founding Fathers."
Dacus said any city employee who is disciplined for uttering the phrase can rely on his organization for help.
"The folly of the prohibition is so self-evident that we will offer to represent, at no charge, any city employee who is disciplined or admonished for invoking our Founding Fathers," he said.
It won't happen, according to city spokeswoman Katie Keach.
"No employee has ever been disciplined for referencing our founding fathers, and no one ever will," she said.