Samantha Bee show visits newly-famous 'Latinos for Trump' founder Marco Gutierrez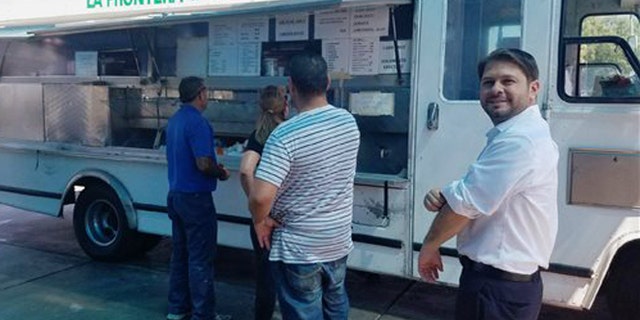 NEWYou can now listen to Fox News articles!
The founder of "Latinos for Trump" is getting far more than 15 minutes of fame.
Marco Gutierrez made national headlines when he warned in an MSNBC interview this month that, left to their devices, Mexicans-Americans would steamroll through the country, resulting in a "taco truck on every corner."
On Monday, the "Full Frontal with Samantha Bee" late-night satire show featured Gutierrez in a segment that included an interview of the newly-famous Mexican-American businessman with correspondent Mike Rubens.
"We spoke to Marco just days before he was darkly predicting culinary utopia and inadvertently boosting voter registration for Hillary," Rubens says on the video.
Rubens asks Gutierrez, "Are you saying we should be frightened of Mexicans?"
"Yes," Gutierrez says evenly. "You should be very frightened."
Gutierrez tells Rubens that he came from Mexico to join his parents, who came here illegally.
Rubens eventually became a citizen, and earned millions in real estate, but lost it during the recession and also lost his license after accusations of shady practices.
Gutierrez stressed to Rubens that his license was not taken away, but that he surrendered it.
Rubens goes on to interview a lawyer who says he's had clients who lost money to Gutierrez "for bogus mortgage help" and that Gutierrez "took money that didn't belong to him."
Gutierrez describes himself as "a minute Donald Trump" and reveals that he has political aspirations himself — he would like to run for governor someday.
Meanwhile, the Trump campaign is distancing himself from Gutierrez, whose taco truck warning sparked the social media hashtag #TacoTrucksOnEveryCorner.
The news outlet Vox quoted Jon Cordova, a Trump spokesperson, as saying in a statement: "Marco Gutierrez is NOT a surrogate for the Donald Trump campaign and only represents his own views, not the position of the campaign."