Russian spy ship docks quietly in Havana on eve of high-level meetings between Cuba, U.S.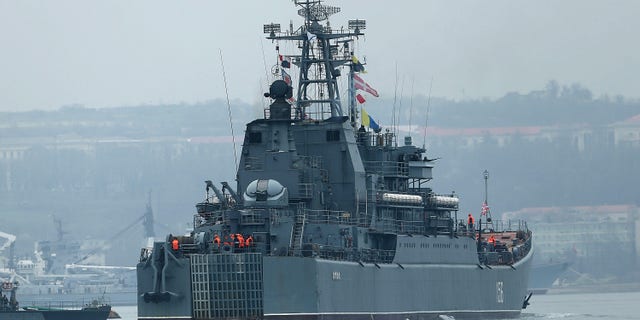 NEWYou can now listen to Fox News articles!
A 300-feet Russian intelligence warship docked quietly in Havana Tuesday is fueling speculation about the renewal of diplomatic relations with the U.S.
Its arrival, on the eve of a historic meeting between Cuba and the United States, was not announced by Cuban authorities or the press. The Viktor Leonov CCB-175 entered the Bay of Havana in the morning and was moored to a pier often used by cruise ships, the AFP news agency reported.
The Vishnya ship, also called Meridian-class intelligence ship, has a crew of around 200. This same ship, the AFP reports, docked in Havana in two separate occasions over a year ago. Those visits were also announced and lasted a few days.
The port call came as a U.S. delegation that includes Secretary of State for Western Hemisphere Affairs, Roberta Jacobson, is set to meet Wednesday with a Cuban counterpart headed by the United States director at the Cuban Foreign Ministry, Josefina Vidal.
The meeting is being called "historical" because it's the highest-level delegation to visit Havana since 1980. In a press release, Jacobson's office said the two-day visit's agenda will include "technical and logistical arrangements such as embassy operations, staffing and visa processing."
According to the release, Jacobson will meet with members of independent civil society, as well as religious and independent business leaders.
Moscow and Havana remained close allies during the 30-year Cold War, until the collapse of the Soviet Union in 1991. After a gap of eight years, during Boris Yeltsin presidency (1991-1999), the two countries resumed bilateral relations and military cooperation.
Then in December 2008, a Russian anti-submarine destroyer and two logistical warships docked in Cuba in a nonmilitary visit, the first of its kind since the Soviet Union's demise. The arrival was an extension of a tour that included stops in Venezuela and Panama and showed Moscow's desire to flex some muscle in the United States' backyard.
Like us on Facebook
Follow us on Twitter & Instagram