Russian Foreign Minister Discusses Ukraine Situation During Stop In Peru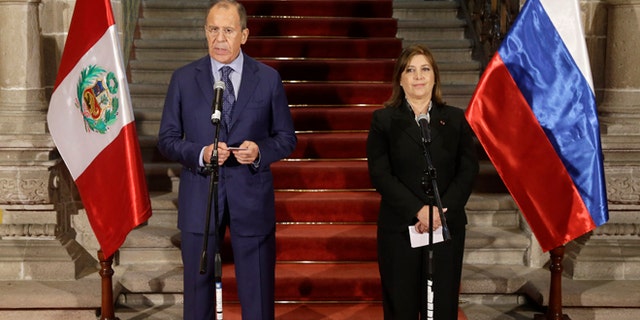 NEWYou can now listen to Fox News articles!
LIMA, Peru (AP) – Russian Foreign Minister Sergey Lavrov suggested on Wednesday that a dialogue be launched between Ukraine's government and its "opponents" under the auspices of the Organization for Security and Cooperation in Europe.
Lavrov made the comment during a statement to reporters after meeting with Peru's president, Ollanta Humala, and foreign minister, Eda Rivas.
The 57-nation OSCE was tasked earlier this month with helping to ease tensions in eastern Ukraine, where pro-Russian separatists have seized government buildings in at least 10 towns and cities.
The OSCE special mission to Ukraine has no muscle, however, to enforce its vague mandate and seven of its observers, including three German officers, were being held by separatists.
"We hope that our partners, our Western colleagues will let the Ukrainians establish this dialogue without major impediments," Lavrov said through a translator. He did not take questions.
"The authorities in Kiev must take into account the responsibility they have, of the necessity for them to establish dialogue with our regions of the country, in particular the southeast," Lavrov added. That region has a large Russian-speaking population.
The Russian envoy made the statement at the end of a quick swing through Latin America that included visits to Cuba, Nicaragua and Chile.
In Chile, he called U.S. and European Union sanctions against top officials allied with Russian President Vladimir Putin "totally without sense" but said his country would not rush into doing "stupid things" in response to them.
"We want to give our partners the possibility to calm themselves."
The sanctions followed Russia's annexing in March of the Crimea region after a referendum. The U.S. and European Union deemed the annexation illegal.
Follow us on twitter.com/foxnewslatino
Like us at facebook.com/foxnewslatino