Rubio says 'I do' on having experience to become president, in NH visit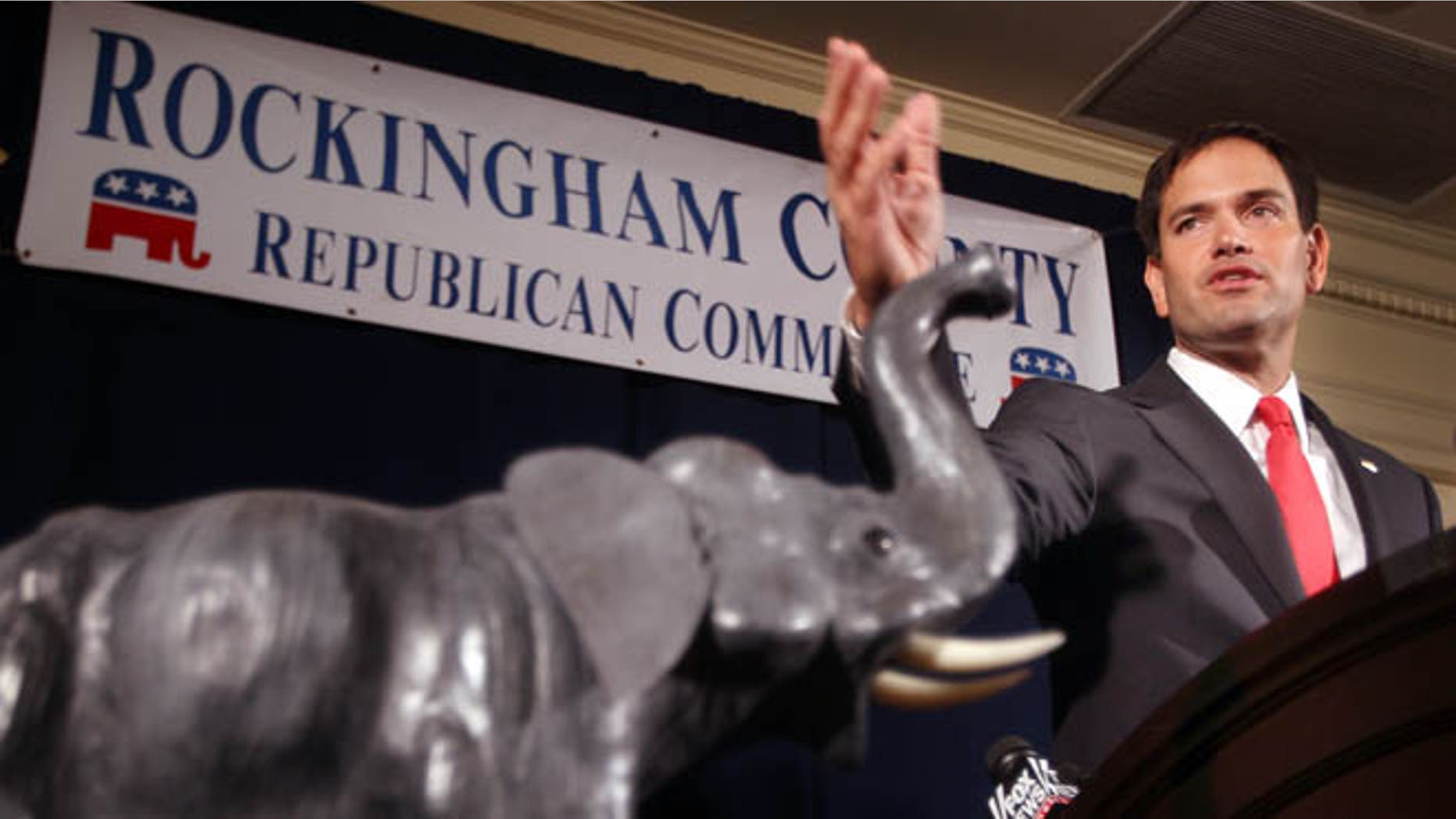 Florida GOP Sen. Marco Rubio is at least six months away from saying whether he'll run for president in 2016, but last week the Senate freshman made clear that he thinks he's ready.
The 42-year-old Rubio on Friday visited the key, early-voting state of New Hampshire for the first time since the 2012 presidential elections.
"I do" think I have the political experience to become president, Rubio told ABC's "This Week," while in New Hampshire, in an interview aired Sunday.
Rubio, a dynamic Tea Party candidate swept into the Senate during the 2010 midterm elections, has quickly emerged as a leading GOP voice in Congress and was even considered a viable, potential presidential candidate in 2012.
He is among several potential 2016 GOP presidential candidates at the top of early polls with New Jersey Gov. Chris Christie, former Florida Gov. Jeb Bush and fellow freshman Sen. Rand Paul, of Kentucky.
Rubio said two the biggest factors are: deciding whether he could "carry" a winning 2016 GOP message and if the best place to achieve his political goals is the White House or Capitol Hill, where he helped the upper chamber pass comprehensive and bipartisan immigration reform.
Still, Rubio told ABC he wouldn't have a plan to seek a second Senate term should a presidential bid fall short.
"You don't run for president with some eject button in the cockpit," he said.
In New Hampshire, Rubio also affirmed his national political ambitions, accusing Democrats of threatening the American dream, as he campaigned across the state, which in 18 months will for the first time have the first-in-the-country presidential primary.
He also jabbed at former Secretary of State Hillary Rodham Clinton, considered the overwhelming favorite to win the next Democratic presidential nomination if she chooses to run, in a speech to hundreds of Republicans gathered along New Hampshire's seacoast.
"They're threatening to nominate someone now who wants to take us to the past -- to an era that's gone and never coming back," he told the Rockingham County Republican Committee.
The appearance marked the clearest sign yet of Rubio's interest in 2016 as he also beefs up his political organization and charts an aggressive role in this fall's midterm elections.
Rubio attended three fundraisers on Friday to benefit New Hampshire Republicans, earning a private audience with key activists, donors and elected officials who play outsized roles in the selection of the GOP's next presidential nominee.
The state's 2016 presidential primary is roughly a year and a half away, but prospective candidates have begun to flock to the state in recent months to secure an early advantage with the key players.
Rubio is the first in the group of the more mainstream Republican class to appear in New Hampshire this year.
Paul, Mike Huckabee, a former Arkansas governor and ordained Baptist minister, and Texas Sen. Ted Cruz, another Tea Party favorite and potential 2016 candidate, already have visited several times.
Though Rubio thinks he's ready to become president, some are skeptical, describing him as a relatively inexperienced leader who has failed to impress in key moments.
"He's sort of a victim of his own success," said Steve Duprey, the state's Republican National committeeman. "He was considered this hotshot rising star. Then a couple of issues like immigration haven't gone very far, so some people think his stock is falling. To me, he comes across as a serious and thoughtful, mainstream conservative."
At the same time, Rubio has reshuffled his staff and directed his political resources to three key Senate races this year, including a GOP primary in Iowa, the state that hosts the first caucuses of the presidential primary season. Taken together, his actions are part of an effort to strengthen his standing in a potentially crowded 2016 presidential field after a year in which he saw his popularity slip over his backing of an immigration overhaul.
For now, Rubio's advisers say his political focus remains on helping Republicans retake the Senate in November. His political action committee is backing candidates in Arkansas, Colorado and Iowa -- efforts that aides acknowledge could buoy a presidential campaign should Rubio run.
In Washington, Rubio has muscled his way to the forefront of major domestic and foreign policy debates, becoming a leading Republican voice for more robust action in geopolitical hot spots from Venezuela to Russia to China. This week, he will detail his ideas to bolster retirement security and overhaul entitlement programs.
The Associate Press contributed to this report.