Rubio praises anthem-kneeling NFL player's community service
NFL players who kneel during the national anthem are apparently OK with U.S. Sen. Marco Rubio, as long as they perform acts of community service away from the football field.
That was the message the Florida Republican appeared to be communicating Wednesday when he tweeted support for wide receiver Kenny Stills of the Miami Dolphins.
"No @NFL player does more community service than @KStills of the @MiamiDolphins," Rubio tweeted. "You don't have to agree with how or why he has chosen to exercise the 1st Amendment before every game to acknowledge the hours he gives voluntarily,on his day off,to serve his fellow Americans."
Rubio's message retweeted a Stills tweet, in which the player posted photos of himself joining other Dolphins as they visited disabled military veterans this week as part of the team's "#CommunityTuesday" effort.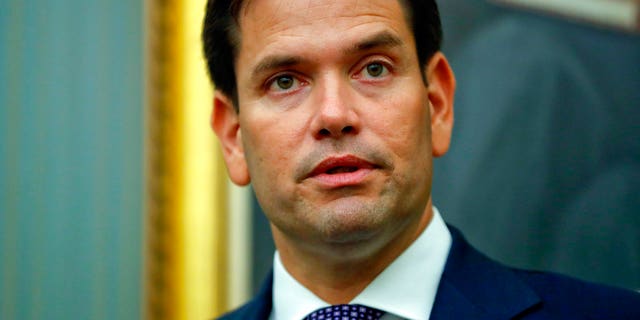 The hospital visit by the Dolphins players came two days after the team started the regular season at home with a 27-20 win over the Tennessee Titans.
Prior to the game, Stills and teammate Albert Wilson knelt during the playing of "The Star-Spangled Banner," drawing praise from former NFL quarterback Colin Kaepernick, who initiated the gesture during the 2016 season as a protest against police brutality against minorities.
"My Brothers @kstills and @ithinkisee12 continue to show their unwavering strength by fighting for the oppressed!" Kaepernick wrote. "They have not backed down, even when attacked and intimidated. Their courage will move the world forward!"
Kaepernick's protest has drawn support from many NFL players and has divided fans. It has also sparked criticism from President Trump and many military veterans, who have argued that protesting during the national anthem amounts to disrespect for the flag and for the contributions of those who serve in the military.
As for Rubio, his praise for Stills seemingly places him once again at odds with President Trump. Rubio and Trump clashed during the 2016 presidential campaign, with Trump frequently referring to the senator as "Little Marco," and Rubio making jokes about Trump's "small hands."
More recently, Rubio this week criticized Trump for authorizing additional sanctions against nations or individuals that interfere with upcoming U.S. elections.
Some people familiar with trump's executive order said it was partly intended to supplant possibly stronger measures from Congress.
Rubio and Sen. Chris Van Hollen, D-Md., issued a joint statement Wednesday, saying Trump's order "does not go far enough."
"The United States can and must do more," the statement continued. "We must make sure Vladimir Putin's Russia, or any other foreign actor, understands that we will respond decisively and impose punishing consequences against those who interfere in our democracy."
In a tweet, however, Rubio appeared to tone down the criticism.
"The @WhiteHouse & @POTUS deserve credit for taking this action," Rubio wrote. "They did as much as they could do with an executive order but are limited from going further without legislation."