ROTC Returns to Elite Colleges After Repeal of Military's Gay Ban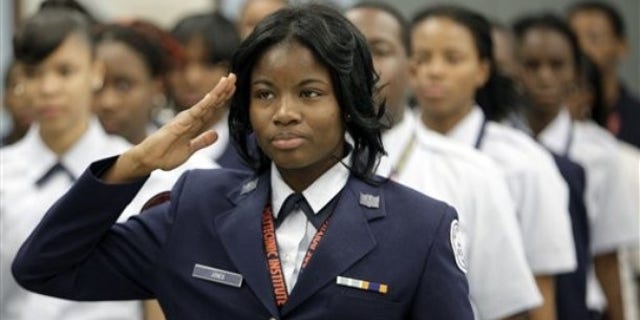 NEWYou can now listen to Fox News articles!
After four decades of estrangement, the nation's most elite universities and the Reserve Officers' Training Corps, or ROTC, are reuniting after Congress in December repealed the military ban on gays serving openly.
Harvard, Yale, Columbia and Stanford are all taking steps to reinstate the program after banning it during the height of the Vietnam era. Opposition to the 1993 law, "don't ask, don't tell," sustained the decision in recent decades. Harvard students who wanted to participate in the program were forced to do so off campus through a partnership with nearby Massachusetts Institute of Technology.
But last month, Harvard became the first prominent school to rescind its ban since December. Harvard President Drew Faust and Navy Secretary Ray Mabus signed an agreement to reestablish the Naval ROTC's formal presence on campus. As part of the agreement, a director of Naval ROTC at Harvard will be appointed, and the university will resume funding the program. Harvard cadets will still train at MIT.
Columbia announced on Friday it was lifting its ban. Yale and Stanford appear poised to follow suit. The Stanford ad hoc committee voted unanimously last week to lift the ban on the program. The faculty senate is expected to vote on the recommendations Thursday.
The Yale faculty committee on ROTC recommended lifting the ban. A vote by the faculty is scheduled for May 5.
ROTC was founded in 1916 to ensure educated men were well-represented in the military. Students receive scholarship money in return for agreeing to military service after graduation.
ROTC was booted off numerous campuses during the Vietnam War, when student protesters said the military's presence on campus was the same as endorsing the war.