Ron Paul Officially Announces 2012 Presidential Bid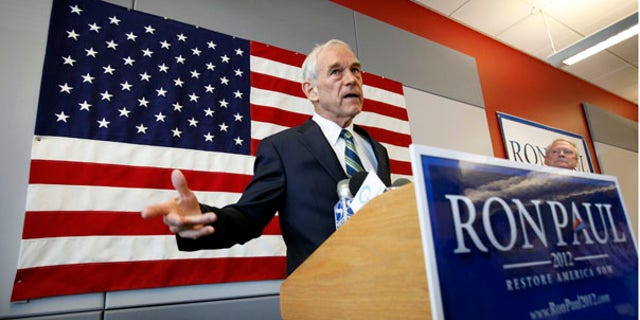 NEWYou can now listen to Fox News articles!
Rep. Ron Paul is in.
The Texas congressman officially announced his pursuit of the 2012 Republican presidential nomination Friday ahead of a rally in Exeter, N.H.
"At this moment I'm officially announcing I am a candidate," he told ABC's "Good Morning America."
"The time has come around to the point where the people are agreeing with much of what I've been saying for 30 years so I think the time is right," he added.
Paul, 75, made additional remarks from New Hampshire, where he's on a two-day swing following a stop in Iowa.
"It's great that I am able to announce in this state, a very special state, because there is such high respect for the spirit of liberty here," he said. "So I am very pleased that I am once again able to say that I am a candidate for the presidency in the Republican Party primary."
The libertarian-leaning Republican, who has already run twice for the presidency in 1988 and 2008, had already formed a presidential exploratory committee, opened an office in Iowa and used his trademark money bomb method to raise more than $1 million online on the day of the first Republican presidential debate in South Carolina last week.
Citing unnamed polling, Paul said he's joining the race at a time when more and more people are looking at his ideas for running the country.
"I believe right now we're coming in No. 1 and the Republican primary is an absolute possibility," Paul said on ABC. "Many, many times better than it was four years ago. Our troops, our supporters, the grassroots, are enthusiastic, moreso than ever, where I was impressed before, I'm super impressed now with the enthusiasm that we're getting," he said.
According to a recent CNN poll, Paul was ranking somewhere in the middle of a vast GOP field that had former Arkansas Gov. Mike Huckabee in first place. However, the same poll, released May 6 but taken before the president's announcement that U.S. Navy SEALs had killed al Qaeda leader Usama bin Laden, showed Paul with the best chance of beating Obama, though he was still seven points behind the president in a head-to-head matchup.
Responding to questions about his criticism earlier this week of sending the SEALs into Pakistan to capture or kill bin Laden, Paul clarified that his dissatisfaction was over process, not intention.
"I have no qualms about getting him ... I'm delighted he's gone," Paul said, noting that he originally supported going into Afghanistan after the Sept. 11, 2001, terror attacks but would have pursued bin Laden differently after he escaped from the mountainous region in late 2001.
Newscore contributed to this report.