Ron Paul: I Would Not Have Ordered Bin Laden Raid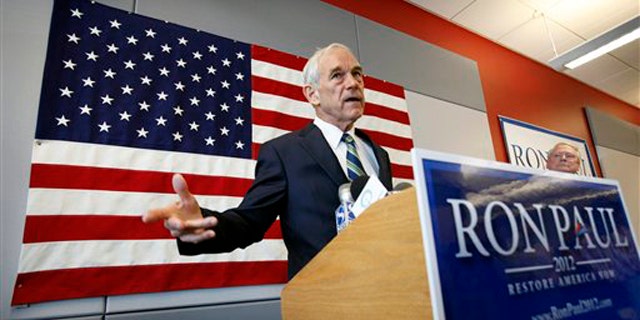 Rep. Ron Paul, a soon-to-be presidential candidate known for opposing U.S. military intervention overseas, said if he were president, he would not have duplicated President Obama's plan for taking out the man responsible for the Sept. 11, 2001, terror attacks.
Paul plans to announce his candidacy Friday in New Hampshire, two sources told Fox News. Ahead of that announcement, he suggested in a radio interview Tuesday that the U.S. government could have worked with Pakistan to secure Usama bin Laden's capture instead of unilaterally entering the country and killing him -- despite concerns that the Pakistanis could have tipped him off.
"It was absolutely not necessary," Paul said of the May 1 CIA-led Navy SEALs raid.
The Texas congressman questioned whether Obama could have gotten away with the operation if Usama bin Laden had been in a country other than Pakistan.
"What if he had been in a hotel in London?" Paul said on Newsradio 1040 WHO. "So would we have sent the ... helicopters into London because they were afraid the information would get out? No, you don't want to do that."
Paul said the United States should have gone after bin Laden the same way it went after Khalid Sheikh Mohammed, architect of the Sept. 11 attacks, by working with the Pakistan government.
"They arrested him, actually, and turned him over to us," Paul said, suggesting the same formula should have applied to bin Laden.
Though Paul is credited by some with inspiring the Tea Party movement, one faction of that movement was not happy with the comment.
"If there is any doubt that Ron Paul should not even get near the Oval Office, even on a tour of the White House, he has just revealed it," Tea Party Nation founder Judson Phillips said on his website. "For a Congressman to say the raid to kill the man who is one of the greatest mass murderers of Americans in history was, 'not necessary,' is simply nuts."
Other potential GOP candidates have expressed support for the way Obama handled the bin Laden operation. Asked about Paul's comments, an aide to businessman and potential candidate Herman Cain reiterated that sentiment.
"Mr. Cain believes that bringing Usama bin Laden to justice was absolutely the right thing to do," spokeswoman Ellen Carmichael said.
Paul, who ran unsuccessfully for president in 2008, is expected to make his candidacy announcement Friday in New Hampshire, site of the first-in-the-nation presidential primary. He has already started a presidential exploratory committee, opened an office in Iowa and raised more than $1 million online last week on the day of the first Republican presidential debate, hosted by Fox News and the South Carolina Republican Party.
Pakistani officials, while saying the death of bin Laden is a positive development, have decried the U.S. raid as a violation of their sovereignty. Obama officials have staunchly defended the mission.
Paul has used the death of bin Laden to renew his push to withdraw U.S. troops from Afghanistan. Paul also wants to drastically reduce the U.S. military presence around the world.