Romney's $7.6 Million Question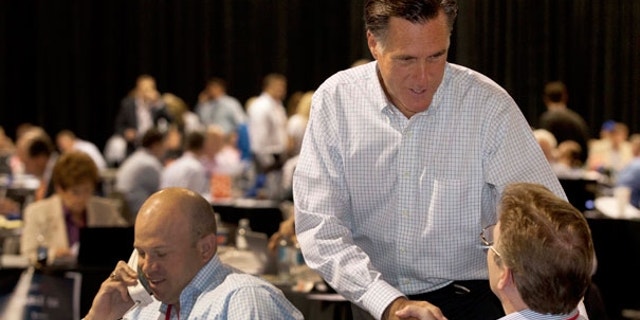 NEWYou can now listen to Fox News articles!
Presidential hopeful Mitt Romney has been leading the pack of GOP candidates in the polls - and in the money department, raising $18 million for his campaign in the second quarter of 2011.
The campaign claims to have raised over $10 million in a single day, a number that the Democratic National Committee disputes.
The Romney campaign held a "National Call Day" May 16 in Las Vegas, an all-day telethon where hundreds of volunteers spent hours contacting potential donors and taking pledges.
"$10.25 million for Romney call day. Not bad," Romney senior adviser Eric Fehrnstrom tweeted after the event.
But according to FEC filings, the campaign reported receiving only $2.4 million that day, prompting the Democratic National Committee to pounce on the discrepancy, calling it a lie.
"According to Romney's FEC report, he raised only $2,402,686 on that day," the DNC said in a press release. "No need to break out your calculator, that's $7,597,314 short of what they claimed."
The Romney campaign says the $10 million figure comes not only from money given on that day, but includes monetary pledges and checks that were mailed but not yet received and cashed by the campaign, as well as pledges that had been collected earlier - something reported at the time of the event.
Romney received $13 million of the $18 million he reported after the May 16 date, which likely includes the donations that were pledged on the day of the telethon but received afterwards.
The campaign has received much of its money so far from big-donor institutions, as opposed to individuals making small contributions. The FEC filings show that less than 6 percent of Romney's fundraising came from individuals giving contributions of less than $250.
Rep. Michele Bachmann, R-Minn, who is quickly becoming seen as Romney's main rival, officially joined the race with only two weeks left in the second quarter but still pulled in $2.2 million in donations, along with $2 million from her congressional account. In contrast to Romney's big donors, 66 percent of Bachmann's contributions came from individuals making small payments, suggesting she may be garnering significant grassroots support.
Serafin Gomez contributed to this report.