Romney urged to pivot from primary debate mentality, strive for knockout against Obama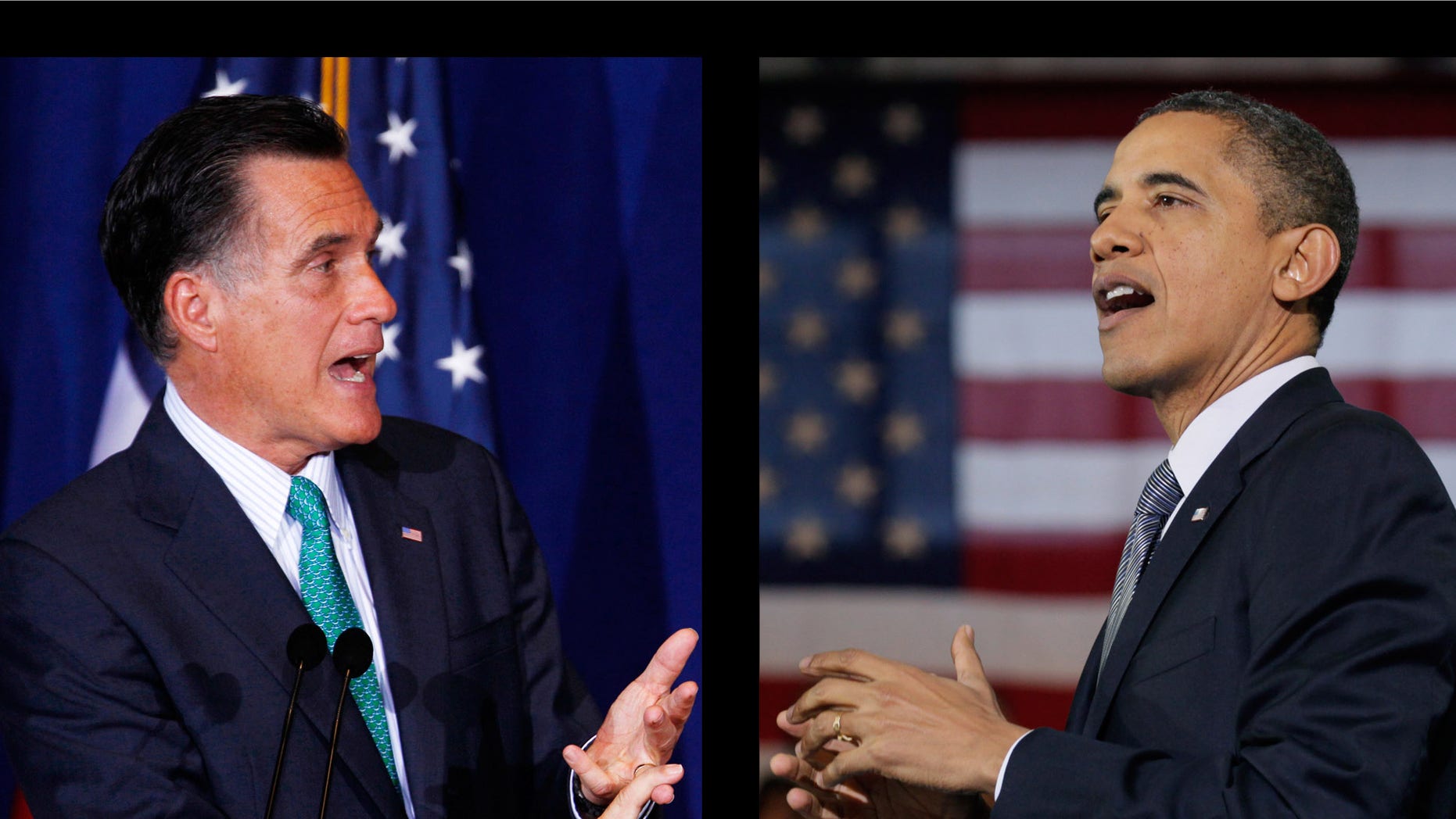 Mitt Romney should approach the presidential debate Wednesday night with a prizefighter-like strategy – a mix of fancy footwork with a few knockout punches, Republican strategists suggest.
In a neck-and-neck race with President Obama but trailing significantly in several battleground states, Romney is pressed to close those gaps with less than six weeks remaining before Election Day.
Though both camps have tried tirelessly to manage expectations, should their candidate get rhetorically clobbered, Republican strategists have, over the past few days, called for Romney to take the offensive.
"I think he's going to have to perform solidly," said Juleanna Glover, an Ashcroft Group founding partner and former Dick Cheney spokeswoman. "But he's also going to have to provide some humor – as well as the knockout punch."
Comments by Glover and the others suggest that a strategy of relentless punching by a candidate still trying to connect with voters that target a popular sitting president might be ill advised.
"He's got to be aggressive …. He's also got to appear emphatic," John Weaver, a former adviser to Sen. John McCain, told The Wall Street Journal. "Those things are not easy to achieve at the same time."
Watch Republican vice presidential nominee Paul Ryan on "Fox News Sunday" on Sept. 30.
Taking an aggressive approach would be a departure from what appeared to be Romney's strategy in the primary debates, performing steadily as the deep field of candidates surged, then either fizzled or imploded.
And like other Republican candidates transitioning into a general election, Romney will have to find ways to appeal to the general electorate, compared to the 2012 primaries in which conservative candidates such as Rick Santorum and Minnesota Rep. Michele Bachmann appeared to force one another to the right of each other.
As proof of the debates' importance, both campaigns have worked furiously over the past several days to create the perfect framework for the first debate Wednesday. Each has billing their candidate as the underdog, should he under perform, and the other as the more-skilled debater, the perfect setup to pounce on a poor showing.
"I don't know how to raise or lower expectations," Romney told Fox News this week. "The president is a very eloquent, gifted speaker. He'll do just fine. I've never been in a presidential debate like this and it will be a new experience."
Glover said managing expectations for such a debate and "heralding the opponent" are really matters of common sense. But failing to do so would be political "malpractice" on the part of either camp.
This will be Romney's first presidential debate, after failing in 2008 to win the Republican nomination. But he arrives after having debated nearly 50 hours over the course of 20 primary debates.
Romney's challenge appears significant. A Quinnipiac University/CBS News/New York Times poll released Wednesday shows him trailing by as much as 10 points in Ohio.
Glover argues that no matter how many well rehearsed lines Romney might have that could add to the "lexicon of American politics" -- and the right setup lines to precede them -- some perfect opportunity might just come down to serendipity.
"Whether such opportunities present themselves is a different story," she said.
Both campaigns set out memorandums Friday touting the challenger.
The Obama campaign, in an attempt to minimize expectations, has recently praised Romney's debate skills, while saying the president is an exceptional orator, albeit long-winded.
"Gov. Romney is a very skilled debater," Obama campaign manager Jim Messina told The Wall Street Journal. "So clearly the governor has the advantage."
Another Obama campaign strategy has been to point out that the president, with all of his official duties, has had less time to practice than Romney, who with Ohio Sen. Rob Portman playing the president has had several mock debates and his expected to spend much of the weekend in final preparation.
Meanwhile, Obama has reportedly met just a few times in Washington with Romney stand-in Massachusetts Democratic Sen. John Kerry.
This is from FNS' Exclusive interview with Paul Ryan in Derry, NH after his rally Saturday morning. In response to what Romney needs to do Wednesday night in the first debate:
Ryan on Saturday told Fox News what he thinks Romney needs to do in the debates: "We owe the country a very clear choice of a different future. We can either have a dynamic, growing economy, that produces opportunity, or we can have a stagnant economy that fosters dependency. We can stick with the failed policies of the last four years for the next four years, or we can get a brighter future."