Romney heads into Nevada with healthy lead, as Gingrich ramps up attacks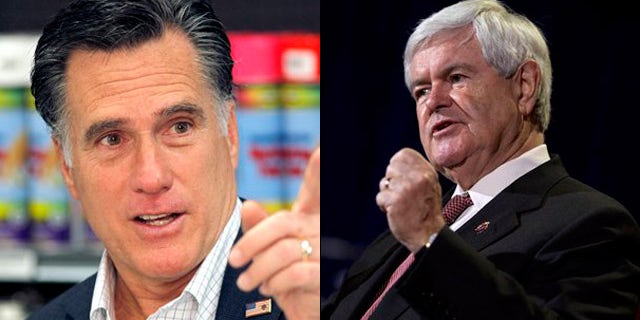 Mitt Romney and Newt Gingrich showed no interest in going easy on each other heading into Saturday's Nevada caucuses, despite polls that show the former Massachusetts governor well ahead in the contest.
The two Republican presidential rivals exchanged pointed words Friday, with Gingrich calling Romney "Obama lite" and Romney's campaign reminding voters about the climate change ad Gingrich once cut with House Democratic Leader Nancy Pelosi.
The heated rhetoric was another sign that the GOP candidates intend to drag this race out, even if Romney scores a string of back-to-back victories. Romney won the Florida Republican primary on Tuesday, and polls show him with a double-digit lead over Gingrich in Nevada.
From there, the candidates will battle in Colorado, Minnesota, Missouri and then Maine.
Gingrich has vowed to take the race to every state in the country and diligently fight for delegates. His campaign is challenging Florida over the decision to award all 50 of its delegates to Romney, while looking to pick up more in the upcoming states.
He sought to puncture Romney's revived front-runner image Friday, releasing a web video that used a George Soros quote in which the liberal billionaire said there isn't "much difference" between Romney and President Obama.
"I do not believe the Republican Party wants to nominate a George Soros-approved candidate," Gingrich said in Las Vegas. He said the GOP should not nominate "Obama lite."
Gingrich also took shots at Romney for his recent comment that he's not concerned about the "very poor."
"If you're a genuine conservative, first of all you don't say you don't care about the poor," he said. "My goal is the exact opposite of Governor Romney -- not to ignore or forget the poor. My goal is to turn the safety net into a trampoline to allow the poor to rise and be like the rest of us."
Though Romney made that comment as part of an explanation that he's most concerned about the middle class, Romney told Fox News on Thursday that he "misspoke."
"I wish I wouldn't have said it that way," he said. "I want to help middle income Americans. I want to get people out of poverty, into the middle income category. But of course, I'm concerned and worried about all Americans."
Romney currently leads in the delegate count with 87. Gingrich trails with 26, followed by Rick Santorum with 14 and Ron Paul with four.
Romney has also racked up several endorsements. After picking up the backing of Donald Trump in Las Vegas on Thursday, Romney was endorsed Friday by the Reno Gazette-Journal and Denver Post.
His campaign fired back at Gingrich over the Soros video, putting out a statement that invoked the former House speaker's Pelosi ad -- an ad Gingrich has said he regrets.
"Unlike Newt Gingrich, Mitt Romney never sat next to Nancy Pelosi in an ad funded by George Soros on behalf of Al Gore's global warming initiative," Romney spokesman Ryan Williams said in a statement. "As recently as 2008, the Soros agenda had no better friend than Newt Gingrich."
Paul and Santorum were also hard at work in the delegate scramble.
Paul has been appealing to Mormon voters in Nevada -- who made up a quarter of the electorate in the 2008 GOP presidential caucus and share Romney's faith.
Paul campaigned in Las Vegas on Friday, as Santorum moved ahead to Colorado.
Santorum took a dig at Romney over his "poor" comment at an earlier event in Reno late Thursday.
Speaking of the remark, Santorum said: "Outta touch much?"