Romney Criticizes Sotomayor in Puerto Rico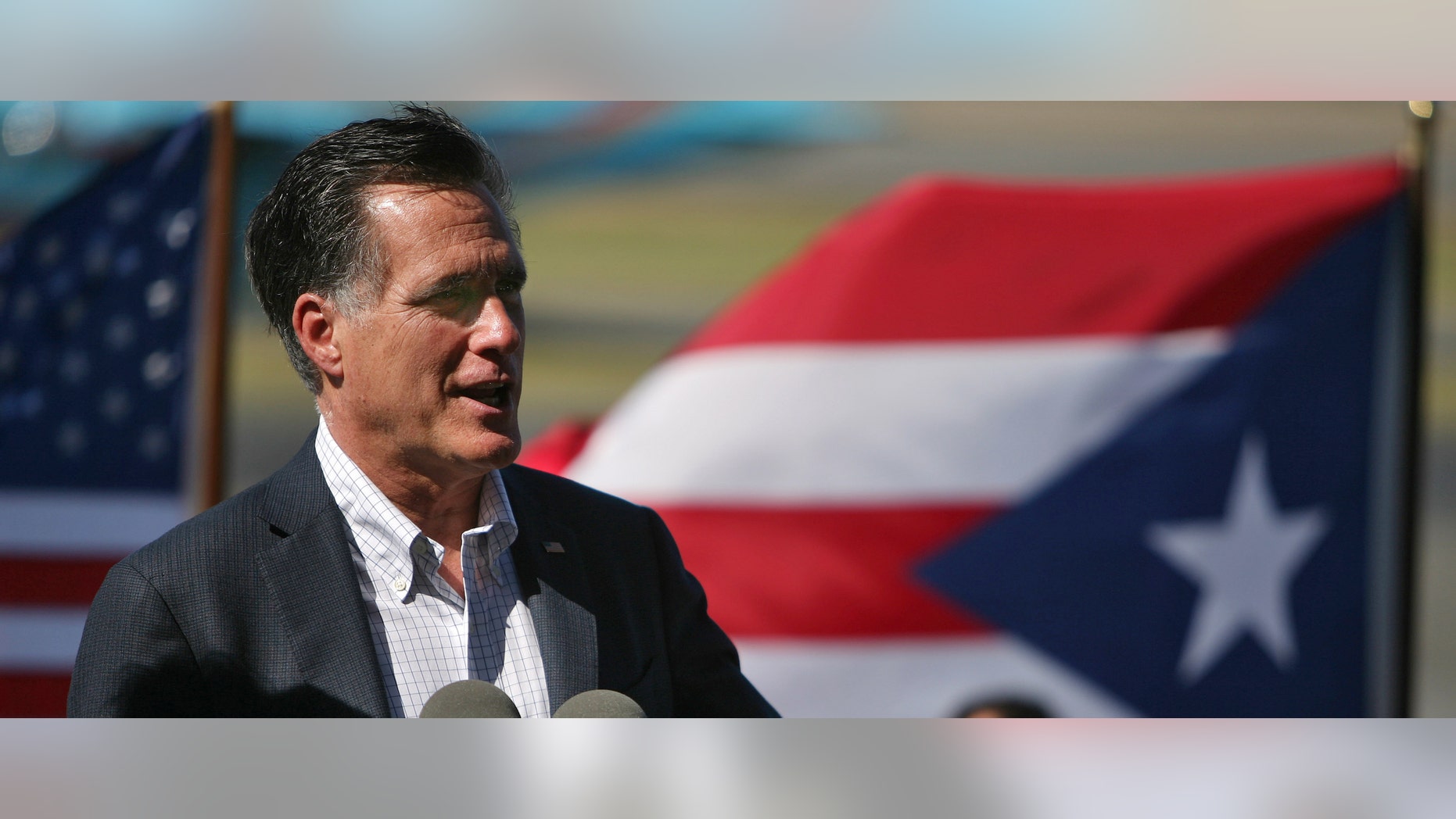 SAN JUAN, Puerto Rico – In the lead-up to Puerto Rico's primary election, GOP frontrunner Mitt Romney encouraged the island's residents to speak English and criticized U.S. Supreme Court Justice Sonia Sotomayor.
The justice, nominated by President Barack Obama in 2009, is beloved by local Democrats and Republicans as the high court's first member of Puerto Rican descent.
"In looking at Justice Sotomayor, my view was her philosophy is quite different than my own and that's the reason why I would not support her as a justice for the Supreme Court," Romney told reporters Friday afternoon, just minutes after his plane touched down in San Juan. "I would be happy to have a justice of Puerto Rican descent or a Puerto Rican individual on the Supreme Court, but they would have to share my philosophy, that comes first."
The issue puts Romney at odds with a majority of local voters and his most prominent Puerto Rican supporter, Gov. Luis Fortuño, standing at Romney's side as the former governor or Massachusetts made his remarks. It also underscores the challenges facing Republican candidates as they bring popular conservative rhetoric to an area packed with Hispanic voters ahead of Sunday's GOP president primary.
Romney and his rival Rick Santorum have supported the conservative push to formalize English as the official language across the country. On Puerto Rico, an American territory that will vote on its political status, including statehood, on Nov. 6, most residents speak Spanish as their primary language.
Santorum made headlines earlier in the week after saying that Puerto Rico would have to adopt English as its main language to attain statehood, a dominant political issue here.
"I have no doubt that one of the requirements that will be put forth to Congress is a requirement that English would be universal here on the island," Santorum told a local newspaper. "That doesn't mean that people can't speak Spanish in their homes, or in their business, or on the street, but that everyone would have a proficiency in English."
In a January presidential debate, Romney suggested that English should be the official language for all states.
"I think our position on English in our schools and in our nation is the same, which I believe English should be the official language of the United States, as it is," Romney said in the debate.
He appeared to back off that position Friday in regards to Puerto Rico's statehood, which he said should have no preconditions regarding language.
"English has been an official language of Puerto Rico for 100 years," he told local reporters. "Selecting the words of your governor, Spanish is the language of Puerto Rico's heritage; English is the language of opportunity. I would hope that young people would learn both languages, but particularly English."
Hours later, Romney was the featured guest at a boisterous evening rally in Old San Juan, where virtually no English was spoken in the four hours before he took the stage. Fortuño sat at Romney's side periodically translating.
As the music blared, a visibly uncomfortable Romney clapped his hands as people on the stage danced around him.
"What a wonderful people you are — citizens of this great land, citizens of America," Romney declared in a speech that spanned last less than seven minutes. "I respect the people of this island."
Where the Candidates Stand on Puerto Rican Statehood
Puerto Rico is set to hold its GOP presidential primary on Sunday. While there are 20 delegates at stake, Republicans want to make inroads with Hispanic voters, a growing voting bloc across the country, but are complicating their efforts with such talk.
Romney was also forced to defend a New York Times report suggesting that Romney profited from his former company's role in expanding the Chinese government surveillance programs.
"I'm not familiar with that report and so I really can't respond to it," Romney said, adding that he left his former company, Bain Capital, in 1999. "Any investments that I made are managed by a blind trust. I don't make investments in Bain or anywhere else."
Romney had planned to spend three days in Puerto Rico, but will return to Illinois — which hosts its GOP primary Tuesday — after only about 24 hours on the island.
In a conference call, a prominent Romney supporter, former New Hampshire Gov. John H. Sununu, suggested that Santorum's language comments "doomed" his campaign here, allowing Romney to cut short his Puerto Rico visit
"Santorum embarrassed himself so badly in Puerto Rico that it's quite easy for Gov. Romney to be in Illinois these days," Sununu said.
Based on reporting by The Associated Press.
Follow us on twitter.com/foxnewslatino
Like us at facebook.com/foxnewslatino