Romney, Cain Under Fire at Feisty GOP Debate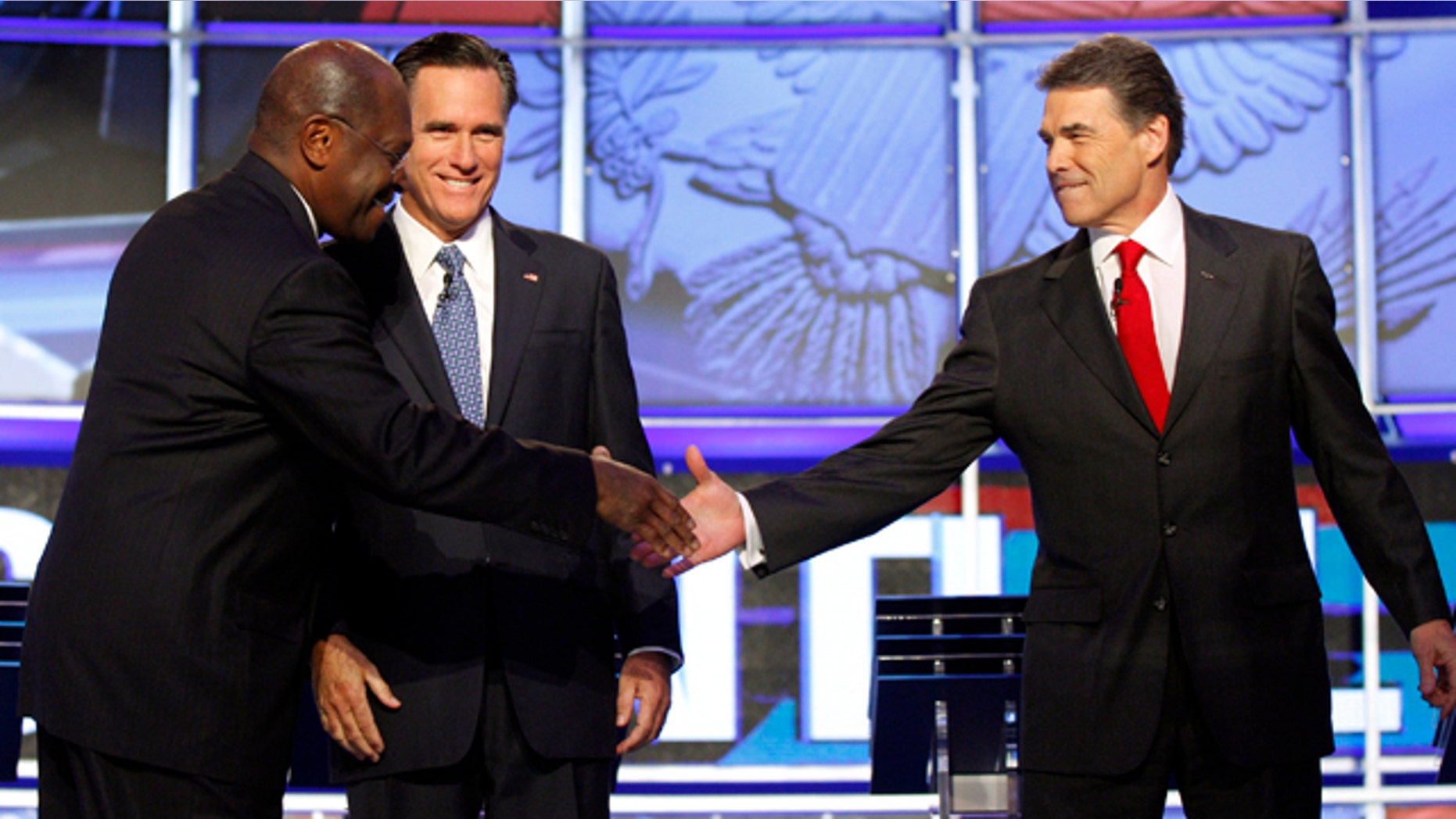 LAS VEGAS – The Republican presidential candidates, at least for a night, turned their attention away from President Obama to pummel each other over everything from taxes to health care to immigration in one of the most contentious debates of the season.
Those with the most to lose, Mitt Romney and Herman Cain, battled the rest of the field on stage in Las Vegas Tuesday night to defend their status as front-runners. Cain faced criticism from just about every candidate on his 9-9-9 tax plan and Romney engaged in some of the most heated arguments to date over his record.
In a debate marked by audience boos and hisses, as well as strong applause for their favorites, the candidates took each other to task over their legislative and governing records, as well as prior statements in earlier debates.
Romney, the former Massachusetts governor, toggled on stage between scolding opponents for interrupting him and defending his record on health care and immigration against an onslaught of attacks.
Perhaps the most dramatic clash of the night was with Texas Gov. Rick Perry, who until Cain started to surge was seen as Romney's biggest threat in the race. An energized Perry tried to call Romney on the carpet for his hiring of a lawn company that employed illegal immigrants dating back to 2006.
"You lose all of your standing from my perspective, because you hired illegals in your home, and you knew about it for a year," Perry said, calling Romney's claims of being tough on illegal immigration the "height of hypocrisy."
Perry was referring to a set of newspaper investigations starting in 2006 that found Romney had employed a contractor that used illegal immigrants. When it was reported in 2007 that illegal immigrants were still being used by the contractor, Romney fired the company. The issue surfaced during Romney's 2008 presidential run – its reappearance suggests the Perry campaign has been scouring for new ways to come at Romney.
In response to the charges in Vegas, Romney at first said he didn't think he'd ever "hired an illegal" in his life.
Perry repeatedly tried to interrupt. After Romney told Perry, "I'm speaking, I'm speaking," he stated: "This has been a tough couple of debates for Rick, and so I understand that you're going to get testy."
Romney eventually acknowledged that the lawn company used illegal immigrants, and he said he let the contractor go after learning of its continued offense. Later on in the debate, he scolded Perry again for interrupting, saying: "You have a problem with allowing someone to finish speaking."
Romney in turn criticized Perry for his support of in-state tuition for some illegal immigrant students – a stance that has caused problems for Perry in past debates.
The clashes were frequent. Minutes earlier, Romney fended off repeated broadsides by former Pennsylvania Sen. Rick Santorum about his support of the Massachusetts' health care overhaul, which included a provision requiring people to get health insurance much like the federal health care overhaul.
"What you did is exactly what Barack Obama did, focused on the wrong problem," Santorum said.
"The people of Massachusetts like it," Romney said.
The debate opened with Cain effectively taking on the rest of the field, which was nearly united in opposition to his plan calling for a 9 percent income tax, corporate tax and national sales tax.
Rep. Michele Bachmann of Minnesota led the assault moments after the debate began, saying Cain's call for a 9 percent federal sales tax would only be the beginning, with the rate rising later.
Santorum wasn't nearly as gentle, citing one analysis that found that taxes would go up for 84 percent of the nation's households if Cain's proposal went into effect. "We're talking about major increases in taxes," he said, adding that a single person and a couple with children with the same income would pay the same tax under Cain's proposal.
Undeterred, Cain insisted the charges were untrue. He said he was being criticized because lobbyists, accountants and others "want to continue to be able to manipulate the American people with a 10-million-word mess," referring to the current tax code.
As Romney and other candidates noted that the proposed federal sales tax would be collected on top of state and local sales taxes, Cain repeatedly charged that his opponents were comparing "apples and oranges."
"That's an apple – we are replacing a bunch of oranges. … You're going to pay the state sales tax no matter what," Cain told Romney.
"The people of Nevada don't want to pay both taxes," Romney said.
Romney also used the call to preview the line of criticism against Cain, who has been near the top of polls for over a week and has been facing intense scrutiny, particularly over his tax plan.
"Most people in middle-income categories will have their taxes go up" under that plan, Romney said in the call, and he said senior citizens would be hurt.
In that, he and President Obama agree. In an interview with ABC News, Obama said Cain's tax plan would be a "huge burden" on middle-class and working families.
Throughout the debate, former House Speaker Newt Gingrich mostly kept out of the fray, later saying that bickering is not the "road to the White House."
Gingrich criticized Romney on his state's health care law, but was measured in his critique. He said the plan was "not Obamacare," but did have "a lot of big government behind" it.
And despite the frequent criticism of 9-9-9, Gingrich gave Cain credit for putting a "very big idea" on the table.
"He has us at least talking about something that matters," Gingrich said.
The candidates also tangled over the extraordinary prisoner exchange between Hamas and the Israelis, in which Israeli soldier Gilad Shalit was just released in exchange for more than 1,000 Palestinian prisoners.
Cain said in an interview before the debate that he could see himself authorizing a transfer of Guantanamo Bay detainees in exchange for an American soldier.
Bachmann, at the debate, said "that's naïve, we cannot do that."
Cain then clarified: "I said that I believe in the philosophy of we don't negotiate with terrorists. … I would never agree to letting hostages in Guantanamo Bay go."
Then Texas Rep. Ron Paul chimed in to note, "they're all suspects, they're not terrorists."
Santorum said "negotiating with other countries" is a "proper role" for the U.S.
Gingrich polished off the exchange with a reference to the Iran-Contra scandal, saying the late President Ronald Reagan viewed dealing with the Iranians on hostages as an "enormous mistake."
The Associated Press contributed to this report.