Retired Lt. Gen. Ricardo Sanchez to Run as Democrat for Seat Hutchison is Vacating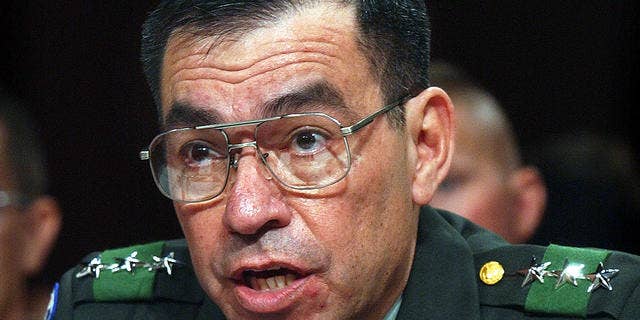 NEWYou can now listen to Fox News articles!
WASHINGTON -- Democratic officials said Monday that retired Army Lt. Gen. Ricardo Sanchez is expected to run for U.S. Senate in Texas, giving Democrats a high-profile recruit to fill the seat being vacated by GOP Sen. Kay Bailey Hutchison.
The officials spoke on the condition of anonymity because they were not authorized to discuss private conversations with Sanchez.
Sanchez is a retired Army lieutenant general and was commander of coalition forces in Iraq when revelations about prisoner abuse at Abu Ghraib became public. He gave up his command in June 2004 and has since maintained that he never authorized torture at the prison. He retired from the military in 2006, blaming the Abu Ghraib scandal for his retirement.
Sanchez would become the first prominent Democrat to seek Hutchison's seat. Last week, Sen. Patty Murray, D-Wash., who runs the Democratic Senatorial Campaign Committee, said she expected to field a strong candidate in Texas. Two Democratic officials with first-hand knowledge of Murray's plans, said she was referring to Sanchez.
The Associated Press reached Sanchez by telephone at his home in San Antonio, but Sanchez asked the reporter to call back in a few minutes. When the number was dialed again, the phone was turned off and went straight to voicemail. He did not immediately return a message.
Sanchez so far is the only prominent Democrat in the race to replace Hutchison, Republicans have queuing up for a shot at the seat. Front-runners include wealthy Lt. Gov. David Dewhurst, former Railroad Commissioner Michael Williams and current Commissioner Elizabeth Ames Jones. Other GOP candidates include former Dallas Mayor Tom Leppert and former Texas Solicitor General Ted Cruz. Hutchison announced in January she would retire at the end of her current term.
Despite the taint of the Abu Ghraib scandal, Democrats believe Sanchez would be a credible candidate. They cite his military background, centrist bona fides, ability to tap into Texas money, a growing pool of Hispanic voters and a potentially fractious Republican primary.
Matt Canter, a spokesman for the Democratic Senatorial Campaign Committee, issued a statement in which he spoke warmly of the retired general.
"General Sanchez has spent his entire life serving our country, and there's no question he would be a strong candidate if he decides to continue to serve his country in the US Senate," Canter said. "He has a tremendous life story, growing up poor, rising to the rank of general in the Army, and bravely leading more than a hundred thousand troops in both Gulf Wars."
Sanchez served as the commander of U.S. forces in Iraq from 2003 to 2004. That time included the revelations about abuse at Abu Ghraib. Sanchez was never directly linked to wrongdoing -- and has maintained he had no knowledge about events at the prison -- but the issue is certain to come up if enters the race.
Since leaving the military, Sanchez has written a book and been publicly critical about U.S. military strategy in Iraq, particularly the surge. He has also called himself a "progressive" in one interview as well as a fiscal conservative.