Republicans Set Sights on Kagan 'Liberalism,' Inexperience Ahead of Hearing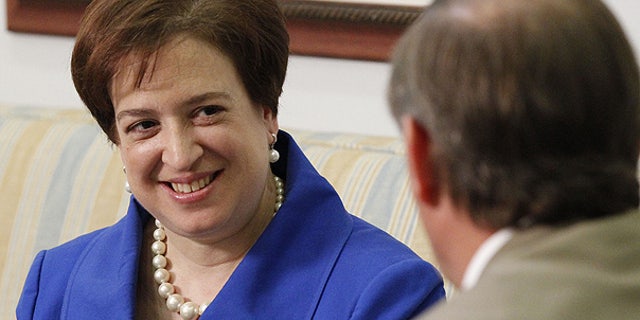 Senate Republicans pledged Sunday to scrutinize Supreme Court nominee Elena Kagan's "liberal" activism and lack of judicial experience at her upcoming hearing, as Democrats claimed her critics were grasping at straws to find a reason to oppose an otherwise qualified nominee.
Kagan's confirmation hearing is set to kick off Monday. She is President Obama's second high court nominee in less than two years, but in the seven weeks since she was picked debate over the nomination has been muted -- all but overshadowed by a series of other developments, including the BP oil spill and the recent Afghanistan command shake-up.
Senators, particularly critical Republicans, are eager to hear what Kagan has to say. Her opening statement, expected at the end of the day Monday, will mark her first substantive remarks since the May 10 nomination announcement at the White House. While Democrats express confidence that Kagan will perform admirably, Republicans say the onus is on her to put their suspicions to rest.
"She'll have to convince me that all of this liberalism that she's lived with all her life can be put in a proper place, and when she gets to be a judge she'll be left of center but within the mainstream of judging," Sen. Lindsey Graham, R-S.C., told "Fox News Sunday."
The Judiciary Committee member cited several concerns, including her actions as Harvard Law School dean to restrict military recruiters on campus -- something Graham called "problematic for most Americans" -- and her stated admiration for liberal Israeli judge Aharon Barak, former president of Israel's Supreme Court.
Sen. Jeff Sessions, R-Ala., ranking Republican on the Judiciary Committee, said he has concerns about Kagan's level of experience -- she is the Obama administration's solicitor general, but does not have a judicial background. Every other member of the Supreme Court came from federal appeals court posts.
"She has the least experience of any nominee at least in the last 50 years," Sessions said on CBS' "Face the Nation." "And so I think that raises questions."
But Kagan's supporters said the smoking gun just isn't there. Before her nomination was announced, she was considered one of the least controversial potential picks, and Democrats said her would-be critics have been struggling ever since.
"It feels like we have an opposition in search of a rationale," White House senior adviser David Axelrod said on a conference call Friday.
Sen. Dianne Feinstein, D-Calif., told "Fox News Sunday" that Kagan is "superbly qualified" and "in the mainstream of thinking."
"I believe the drift net has been out to find some disqualifying factor and it hasn't been found," she said.
Much attention has been focused on her work in the 1990s as a mid-level Clinton administration staffer in the White House and from her earlier yearlong clerkship for Justice Thurgood Marshall. One item that will likely come up is a 1995 article in which she described Supreme Court hearings as a "vapid and hollow charade."
Feinstein said her record is what matters most.
"This is a very impressive record, and that's what we judge people on -- not that she said this one time or that one time," Feinstein said.
Senate Judiciary Committee Chairman Patrick Leahy, D-Vt., echoed that point, saying the charges against Kagan have been made in a "vacuum" because the nominee has not had a chance to answer.
"It's reached the point that, if (Obama) had nominated Moses the law giver, some would have said we can't have him because, among other things, he hasn't produced a birth certificate," he said on "Face the Nation."
Monday will be the most scripted day of a hearing that is expected to last all week, dedicated to opening statements from the 19 Senate Judiciary Committee members.
If confirmed, Kagan will replace retiring Justice John Paul Stevens.