Republicans see glimmer of hope in raucous, crowded, nasty New Hampshire House race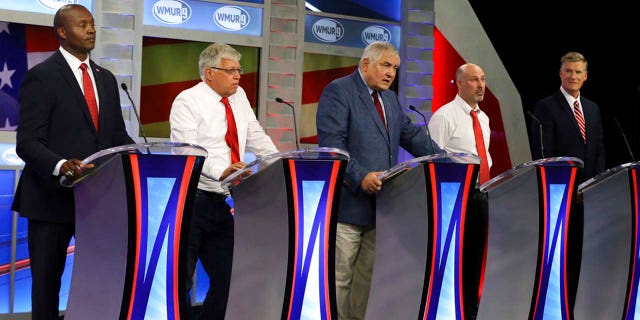 MANCHESTER, N.H. – Sen. Rand Paul parachuted into the midterm campaign trail in New England this weekend, to make a rare endorsement in a GOP congressional primary.
He was back in New Hampshire for the first time since 2016, to support "my friend and your next congressman, Andy Sanborn."
The famous Kentucky senator is hardly the only national figure jumping into the fray of the First District congressional race, with a late-season primary set for Tuesday. It's one of the most crowded and closely watched races of the year, and one of 2018's few opportunities for Republicans to swipe a seat from Democrats.
Democratic Rep. Carol Shea-Porter's retirement "makes the seat a true jump ball," Republican consultant Ryan Williams said.
"Given partisan leanings of the district and its historical willingness to send Republicans to Washington, it's a tremendous pickup opportunity for the party in what could be a big year for Democrats," said Williams, a D.C.-based consultant who over the years has advised GOP campaigns in New Hampshire as well as the state party.
For the first time in 16 years, no incumbent is running for re-election for the seat, which has ping-ponged between Democratic and GOP control the past four elections.
The Democrat-held district also is one of a handful nationwide that President Trump won in the 2016 presidential election. That's why Republicans hope the seat can flip from blue to red as they mostly play defense elsewhere in hopes of holding their House majority.
But first, the party must pick its nominee at the close of a brutal primary.
Five Republicans are running on the Sept. 11 primary ballot, but the nomination battle is really a two-person contest between four-term state Sen. Sanborn – who like Paul is a conservative with a libertarian streak – and Eddie Edwards, who could make history as New Hampshire's first black member of Congress.
FULL MIDTERM COVERAGE AND RACE RATINGS
Edwards, a U.S. Navy veteran and former police chief of a small town who also served as the state liquor commission's chief law enforcement officer, landed his own high profile endorsement this summer: Rudy Giuliani.
The former New York City mayor and top lawyer and cable news surrogate for Trump described Edwards as a "strong conservative who believes in low taxes and is a supporter of the 'America First' agenda of President Trump."
The race between Edwards and Sanborn has turned into a personal slugfest, with both candidates accusing each other of lying over past controversies.
Among them is Sanborn's conduct in the state Senate. He was investigated for making "crass" comments to an intern in 2013. That probe cleared Sanborn of any wrongdoing. Sanborn accused the GOP establishment of ginning up charges to take down his campaign.
During a surreal party-organized debate last month, Edwards was even asked to step off the stage – amid chants and screams from supporters of both candidates – after refusing to pledge to support the eventual nominee if Sanborn won the primary.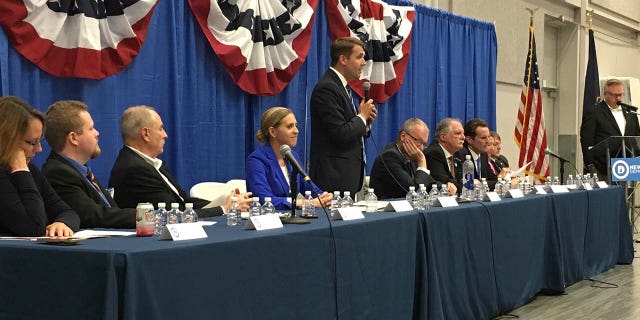 At their final debate, Edwards accused his rival of demonstrating "predatory behavior in our statehouse" and claimed that if Sanborn wins the nomination, "he'll drag us down."
Sanborn has criticized his rival's tenure at the liquor commission and has repeatedly described Edwards as a "government bureaucrat."
He's also spotlighted Edwards' time on a nonprofit board that funded Planned Parenthood, and allegations that his rival received payments for lobbying while he was a congressional staffer.
It's not just the GOP primary that's experiencing open warfare. There's plenty of crossfire among the whopping 11 candidates running for the Democratic nomination.
Among those leading the attacks is Levi Sanders, the son of Sen. Bernie Sanders of Vermont.
The younger Sanders, a legal services analyst, has repeatedly slammed Executive Councilor Chris Pappas, one of the two front-runners in the race, over his lack of support for a 'Medicare for all' single-payer health care plan.
Sanders said at recent forum that it "will be an embarrassment both to the United States of America as well as the people of New Hampshire" if Pappas wins election.
But Sanders – who has not been endorsed by his famous father – isn't the only one on the attack. A trio of other progressive candidates have repeatedly knocked Pappas and Maura Sullivan – the other front-runner – for "taking massive amounts of special interest and PAC money."
Sullivan, a U.S. Marine and Iraq War veteran who also served at the Department of Veterans Affairs and the Pentagon in the Obama administration before moving to New Hampshire last summer, has been accused of being a carpetbagger.
Progressive candidate Deaglan McEachern charged last week that Sullivan "tried her hand first in Illinois then to Virginia and decided New Hampshire was the place to do district shopping because New Hampshire would be a cheaper state."
Sullivan and Pappas have also traded fire in recent weeks, with the sniping becoming more acrimonious by the day.
The big question for both parties – can they quickly unite following knock-down-drag-out primary brawls, for the short two-month sprint to November's general election?