Republicans Deny Giving Up Hope on Miller as Polls Show Nominee Slipping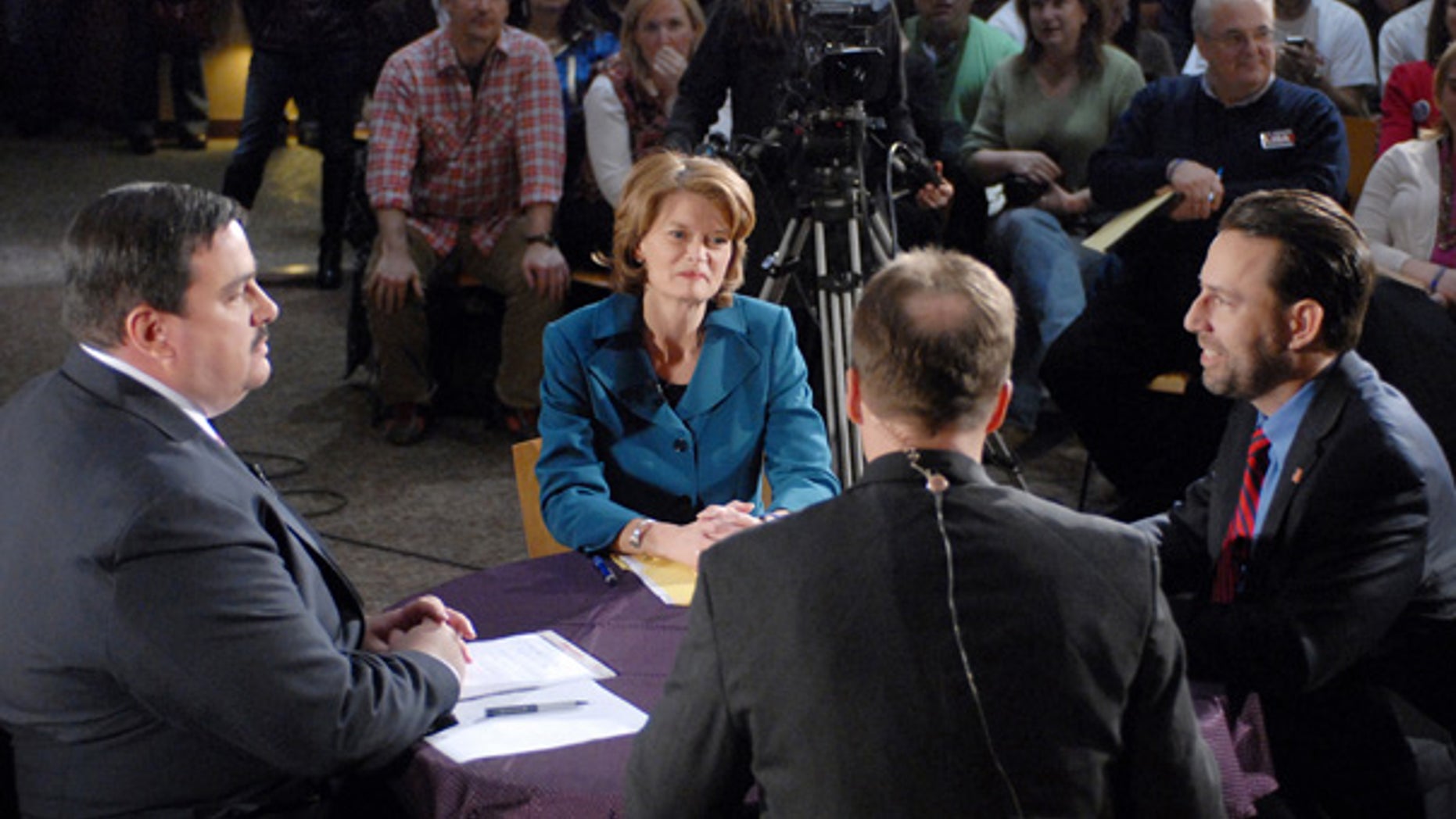 Republicans stood by Alaska Senate candidate Joe Miller Sunday, denying a claim that the party had given up hope that he can beat write-in candidate Lisa Murkowski, as polls show the GOP nominee slipping.
Murkowski, the incumbent senator, launched a write-in campaign after losing to Miller in the Republican primary. Such campaigns are rarely successful in part because the names of write-in candidates do not show up on the ballot -- the state Supreme Court ruled Friday, though, that the write-in list could be provided in limited cases on Election Day.
Amid wildly shifting polls, ABC News reported Sunday that Republican Party leaders are looking for Murkowski, not Miller, to beat Democrat Scott McAdams.
However, National Republican Senatorial Committee Director Rob Jesmer issued a statement calling the claim "inaccurate."
"Joe Miller not only has the full support of the NRSC, but he's actually featured prominently in our TV ad which is running still today statewide in Alaska," he said.
NRSC Chairman Sen. John Cornyn, R-Texas, also said it's "not the case" that the GOP is giving up on Miller.
"We are supporting the nominee of our party," he said on ABC's "This Week."
But Cornyn said the party is "concerned" about the race.
"I think that polls are very close now between Senator Murkowski and Joe Miller, and what we want to make sure of is that the Democrat doesn't win," he said.
Sen. Robert Menendez, D-N.J., chairman of the Democratic Senatorial Campaign Committee, said McAdams stands a "real chance" of winning.
Miller had been holding a slight lead in the polls over Murkowski since winning the primary. But a Hays Research poll released last week showed Miller in third place behind McAdams. It showed "write-in candidate" leading with 34 percent.
Another poll conducted by Dittman Research Corporation, a prominent Alaska polling firm, showed Murkowski leading with 37 percent; Miller pulled in 27 percent, while McAdams pulled in 23 percent. The poll of 421 Alaska residents was taken Oct. 23-28.
Asked about the drama Sunday, Miller told Fox News that establishment support is "irrelevant," and that he'll win with or without the help of Washington insiders.
Miller, an attorney and Tea Party favorite, has been dogged by stories in recent weeks about his past employment, even an incident where his security guards handcuffed a reporter.
The Miller campaign on Sunday, though, suggested that the media have been looking for ways to tarnish his candidacy. The campaign released a voicemail that purportedly showed reporters at a CBS affiliate in Anchorage discussing story angles for an upcoming rally. The recording, which caught the tail end of an editorial meeting, was left by accident on the phone of a Miller campaign aide after somebody with the station tried to call the aide and did not hang up. The campaign said the recording showed reporters talking about finding a child molester who supports Miller.
While the station said the staff members were merely discussing "what-if scenarios" and disputed Miller's characterization, the NRSC stood by Miller.
"If this voicemail is authentic, which is appears to be, it is deeply disturbing," NRSC spokesman Brian Walsh said in a written statement. "It should trouble all Americans that any member of the media would attempt to purposefully smear a nominee for the U.S. Senate."