Miller Campaign Claims Tape Shows Reporters Trying to Connect Him to 'Child Molesters'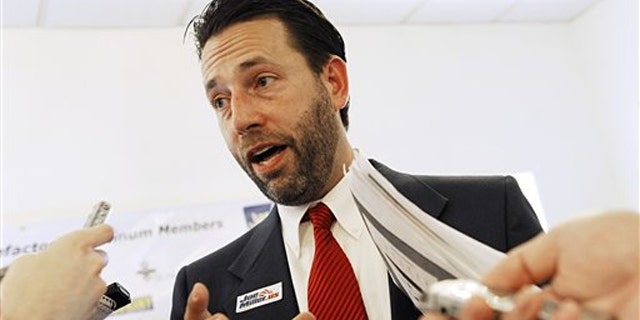 Alaska Senate candidate Joe Miller's campaign claims it has audio proof of local reporters scheming about ways to connect the Republican nominee to "child molesters."
The Miller campaign blasted out an e-mail overnight containing a transcript and audio recording of what it claimed were reporters at CBS affiliate KTVA discussing story ideas. The conversation, according to the Miller campaign, was recorded on spokesman Randy DeSoto's voicemail apparently by accident after an assignment editor with the station called him and mistakenly left his phone on instead of hanging up.
"These folks are out there trying to create a story," Miller told Fox News.
KTVA confirmed the authenticity of the tape Sunday but rejected as "absurd" the suggestion that reporters were trying to "fabricate" a negative story about Miller.
The recording is garbled and occasionally cuts out. But one woman can clearly be heard saying, "child molesters," after another suggests they "wait until you see" who shows up -- at an event the Miller campaign claims was a rally last week.
The message, circulated by Miller and posted on YouTube, gets choppier after the opening exchange. Miller's campaign claims a woman says that, of all the people that show up at the event, "at least one of them will be a registered sex offender."
The individuals identified by the campaign as reporters also discuss sending a "Twitter and Facebook alert" if there is "any sort of chaos" at the event, which somebody on the call compares to the incident at a debate last week when a supporter of Kentucky GOP Senate candidate Rand Paul stepped on the head of a protester.
Former Alaska Gov. Sarah Palin, in an interview with "Fox News Sunday," said the conversation on the call was "sick."
"We have the tape that proves it -- that the CBS reporters, the affiliate in Alaska, conspired to make up stories about Joe Miller," Palin said. "Those are corrupt bastards. ... That's what is wrong with the media today."
The Miller campaign said in a written statement that the reporters in the tape "openly discuss creating, if not fabricating" stories about the Republican candidate.
KTVA General Manager Jerry Bever issued a lengthy statement Sunday calling the recording "unfortunate because it does not accurately reflect the journalistic standards of our newsroom." But he said Miller's analysis and transcript of the recording are "inaccurate," noting that the recording only captured newsroom personnel talking at the end of a "coverage planning meeting" regarding the Anchorage rally last Thursday.
"The group of KTVA news personnel was reviewing potential 'what-if' scenarios, discussing the likelihood of events at the rally and how KTVA might logistically disseminate any breaking news," Bever said.
"The perception that this garbled, out of context recording may leave is unfortunate, but to allege that our staff was discussing or planning to create or fabricate stories regarding candidate Miller is absurd. The complete conversation was about what others might be able to do to cause disruption within the Miller campaign, not what KTVA could do," he said.
He added: "Have we had internal discussions about the level of professionalism we need to bring to our conversations, internally and externally? Of course we have, this is a lesson to learn from."
The campaign said the voicemail was first authenticated by KTVA when the assignment editor sent a text message to Miller spokesman Randy DeSoto saying, "Damn iPhone ... I left you a long message. I thought I hung up. Sorry."
"Frankly when I first heard this I was shocked," DeSoto said. "Though a bit garbled at times, there are disturbing comments in this (conversation) that never should have occurred."
Miller is running against independent candidate Sen. Lisa Murkowski and Democratic nominee Scott McAdams.