Republican Tillis is lone NC Senate candidate on live program intially billed as debate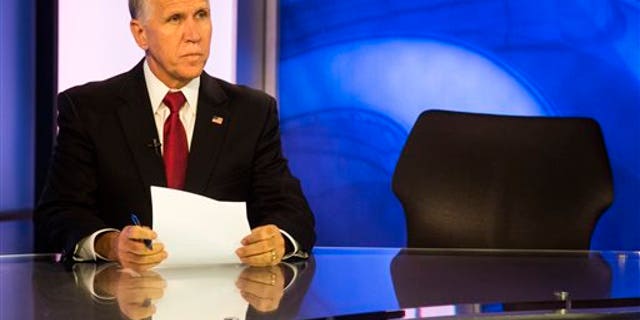 RALEIGH, N.C. – Thom Tillis got the stage alone Tuesday night in North Carolina's tight U.S. Senate race, the only candidate on a statewide television program in which he discussed views on abortion, global climate change and differences with absent Democratic incumbent Kay Hagan.
The program initially billed as a debate between Tillis and other candidates turned into a one-hour conversation with him and two reporters, as well as responses to emailed or recorded questions from the public. Hagan announced over the summer her decision not to participate, while Libertarian Sean Haugh didn't meet a 15 percent polling threshold to join Tillis.
An empty seat was placed next to Tillis at the Time Warner Cable News studios in Raleigh as the state House speaker answered questions on many topics as the start of early in-person voting Thursday neared.
"I'm disappointed that Sen. Hagan's not here," Tillis said in a closing statement in which he repeated themes from their previous three televised debates with Hagan in which he linked her closely to President Barack Obama's policies.
While Haugh appeared on a post-debate program afterward on Time Warner Cable, Hagan kept busy with a statewide tour Tuesday, visiting three locations, including a Wilson County farm late in the day. Hagan's campaign has reiterated she declined the invitation in July and that three debates also were held during North Carolina's most recent U.S. Senate election in 2010. Haugh participated in one of the three.
On the show, Tillis accused Hagan of supporting regulations and government programs that would kill jobs in North Carolina and nationwide. He reiterated that state legislators and business leaders should decide what the minimum wage should be, saying an artificially high minimum wage nationally could eliminate hundreds of thousands of jobs. Hagan and other Democrats want the federal minimum wage raised to just above $10 an hour.
"This is just another regulatory overreach that's going to put people out of work," Tillis said.
On climate change, he said "climate does change over time" and said the U.S. is a small player in the production of greenhouse gas emissions compared to China. He said Obama's proposed policies to curb the emissions would be devastating to job creation.
Tillis said the states should be the ones deciding on legalizing abortion and gay marriage, not the federal government and federal judges. Tillis is opposed to abortion and helped put on North Carolina's ballot a constitutional amendment banning gay marriage that was approved by voters in 2012. Federal judges struck it down this month and he and state Senate leader Phil Berger hired an outside lawyer to try to restore it.
The state House speaker deferred anew on whether U.S. troops will have to be sent overseas to fight the Islamic State, saying he would listen to top generals if elected on the matter. But he said "there's a lot of things that we can do short of putting boots on the ground" to make sure fighters in the Middle East can push back.
Hagan's absence didn't keep her campaign from weighing in, sending a flurry of emails during the program criticizing Tillis.
Hagan "enjoyed participating in the three debates she had with Speaker Tillis, and from those debates, as we saw tonight, it's clear Kay is the only candidate in this race who will put North Carolina's best interests first," Hagan campaign communications director Sadie Weiner said in a statement.
Tuesday night's program also was sponsored by The Charlotte Observer and The News & Observer of Raleigh.