Republican hopefuls take turns criticizing Iran nuclear deal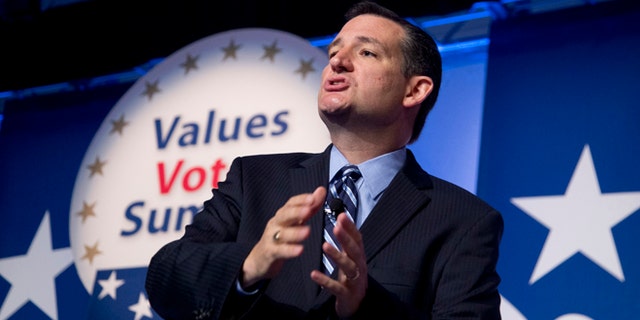 NEWYou can now listen to Fox News articles!
Republican hopefuls in the 2016 presidential race are criticizing the Obama administration's tentative nuclear deal with Iran, saying the agreement is dangerous for the United States and its allies.
"Obama's dangerous deal with Iran rewards an enemy, undermines our allies and threatens our safety," Wisconsin Gov. Scott Walker, who sits atop several early polls, tweeted shortly after the tentative deal was announced Thursday.
Like essentially all of the potential GOP candidates, Walker has used the agreement to strike a sharp contrast with Democrats, with Election Day roughly 18 months away, and make the case that the deal appears to give Iran enough space to remain a nuclear threat to Israel and other allies in the region.
"The Islamic Republic of Iran -- the world's leading state sponsor of terrorism -- is on the march throughout the Middle East," Walker said earlier. "President Obama's deal … risks provoking a nuclear arms race in the most volatile region of the world, one that threatens the survival of our closest regional ally Israel and our key Arab partners."
Walker also has vowed, if elected, that he will pull the U.S. from the international deal on "day one" of his presidency.
The deal between Iran and the U.S., France, Germany, the United Kingdom, Russia and China is a framework agreement toward a final deal June 30.
Iran has insisted that its uranium-enrichment program is peaceful, not toward the development of a nuclear weapon.
"The reported details of the Iran deal include significant concessions to a nation whose leaders call for death to America and the destruction of Israel," said Jeb Bush, another top potential candidate and a former Florida governor. "Iran remains a major destabilizing force in the region, working against American interests."
The 15-year deal would compel Iran to cut in half the number of centrifuges it has spinning uranium. No bomb-making material could be fed into machines at a deeply buried underground facility that may be impervious to air attack. Advanced centrifuge models would be disconnected. A heavy water plant would not be allowed to produce weapons-grade plutonium. And inspections would increase.
However, the limits are vague on Iran's research and development of advanced technology that could be used for producing nuclear weapons. Inspectors still might not be able to enter Iranian military sites where nuclear work previously took place. And Iran and the other world powers are already bickering over how fast economic sanctions on Iran would be relaxed.
"This attempt to spin diplomatic failure as a success is just the latest example of this administration's farcical approach to Iran," said Florida Sen. Marco Rubio, who is expected on April 13 to announce his candidacy.
Texas Sen. Ted Cruz, the only major GOP candidate who has officially declared a 2016 bid, took a more cautious approach to the news of the deal but expressed concern about any agreement with Iran.
"We're still looking at the exact details, but (the language of the deal) suggests it will dramatically undermine the interests of the U.S.," Cruz said Thursday night in a town hall-style meeting in Des Moines, Iowa. "This administration doesn't understand the people they are dealing with. They support death and suicide."
Former Hewlett-Packard chief executive Carly Fiorina, who appears interested in a White House bid, said in an op-ed for FoxNews.com: "The deal that the United States has negotiated with Iran poses a grave threat to American security at home and abroad."
Like the other potential candidates and critics of the agreement, Fiorina also expressed concern about whether Iran can be trusted.
"The Iranian government has repeatedly, flagrantly violated sanctions put in place by the United Nations," she wrote. " This is not an agreement which will make Americans proud."
Former Texas Gov. Rick Perry, a 2012 presidential candidate considering another run, told Breitbart News: "Americans and our allies are right to be wary of a nuclear deal with Iran that is riddled with concessions by the Obama administration."
The Associated Press contributed to this report.