Dems make gains in gubernatorial contests but fall short in Ohio, Florida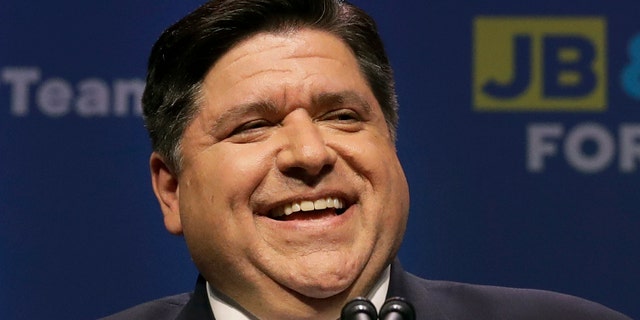 Democrats made steady gains in gubernatorial contests in Tuesday's midterm elections, expanding their power at the state level as they reclaimed the majority in the House of Representatives -- but nevertheless fell short in key contests where they had hoped to flip Republican seats.
As of late Tuesday, Democrats had flipped at least six gubernatorial seats in Kansas, Maine, Illinois, Nevada, Michigan and New Mexico, with likehilhood of flipping Wisconsin too.
But Democrats experienced disappointing losses Tuesday in states like Florida, where Democrat Andrew Gillum fell short in his bid to become Florida's first African-American governor. Gillum conceded to Republican Ron DeSantis, an outspoken supporter of President Trump, in the race to succeed outgoing GOP Gov. Rick Scott.
Democrats are also projected to lose a hard-fought gubernatorial contest in Ohio, where former Republican Sen. Mike DeWine will defeat Democrat Richard Cordray, who served as President Obama's first director of the Consumer Financial Protection Bureau. DeWine will succeed term-limited Republican Gov. John Kasich.
Heading into Tuesday's vote, Republicans controlled 33 of 50 governorships across the country, while Democrats held just 16. With 36 governors races up for grabs this year, Democrats made gains.
Those victories include Kansas, where Democratic state senator Laura Kelly is projected to defeat Republican Kris Kobach in the state's governor's race. Kobach, the secretary of state in Kansas, in August defeated incumbent Gov. Jeff Colyer in the state's Republican primary.
In Illinois, Democratic billionaire J.B. Pritzker, whose family owns the Hyatt hotel chain, is projected to unseat Republican Gov. Bruce Rauner in the Illinois gubernatorial contest. That will make Pritzker the richest governor in U.S. history.
In New Mexico, Democratic Rep. Michelle Lujan Grisham is projected to beat Republican Rep. Steve Pearce to succeed term-limited Republican Governor Susana Martinez, turning the governor's mansion from red to blue.
In Maine, Democratic Attorney General Janet Mills is projected to defeat Republican businessman Shawn Moody to succeed term-limited Republican Gov. Paul LePage.
In Michigan, Democrat Gretchen Whitmer is projected to defeat Republican Bill Schuette, breaking years of Republican control in the state, to succeed term-limited Republican Gov. Rick Snyder.
In Nevada's gubernatorial election, Democrat Steve Sisolak, chairman of the Clark County Commission, defeated Republican Attorney General Adam Laxalt in a battle to succeed term-limited GOP Governor Brian Sandoval.
Wisconsin Republican Gov. Scott Walker, who unsuccessfully sought the presidency as a Republican in 2012, is trailing Democrat Tony Evers, the education superintendent, in the state's gubernatorial race. The Associated Press declared Evers the winner early Wednesday, but a Walker spokesperson says "we need the official canvass for military ballots to be counted before any decision."
In Georgia, Democrat Stacey Abrams, who is vying to become the first African-American female governor in U.S. history, has yet to concede though returns show her falling short of defeating Republican Secretary of State Brian Kemp to succeed term-limited Republican Gov. Nathan Deal. Abrams, the former minority leader of the Georgia House of Representatives, in recent days sought to turn out black voters, with high-profile appearances in Georgia on her behalf by Oprah Winfrey and former President Barack Obama.
For Republicans, holding on to control of state houses is vital, considering that's where real policy changes may take place if Washington effectively deadlocks with Democrats winning the House.
Despite the Democratic pickups, Republican incumbents in the Northeast and Mid-Atlantic held on to seats Tuesday.
Maryland Republican Gov. Larry Hogan is projected to win a second term by defeating Democrat Ben Jealous, the former president of the NAACP. In Massachusetts, Republican Gov. Charlie Baker is projected to win a second term by defeating Democrat Jay Gonzalez. In Vermont, Republican Gov. Phil Scott is projected to defeat Democratic challenger Christine Hallquist. And in New Hampshire, Republican Gov. Chris Sununu will win a second term by defeating Democrat Molly Kelly.
As expected in New York, Gov. Andrew Cuomo, who defeated "Sex and the City" actress Cynthia Nixon seven weeks ago in the Democratic primary, is projected to win a third term by beating Republican Marc Molinaro. California Lieutenant Governor Gavin Newsom, a Democrat, is also projected to defeat Republican John Cox in the race to succeed term-limited Democratic incumbent Governor Jerry Brown.
And in Colorado, Democratic Rep. Jared Polis is projected to become the first openly gay man to win a gubernatorial election in U.S. history by defeating Republican Treasurer Walker Stapleton to succeed term-limited Democratic Governor John Hickenlooper.
Ahead of the vote, Democrats called the election the "biggest day for governors races in a decade."
"With 36 seats up, Democrats have a historic opportunity to elect new governors who can innovate on progressive policies, build the future of the Democratic Party, and stop Republican gerrymandering after the 2020 Census," the DGA said in a statement.
Republicans, though, expressed optimism that they would hold on to seats, even in a tough year for the GOP.
"Polling shows that Democrats could have a good night, but there's no clear evidence of a blue wave," Jon Thompson, a spokesman for the Republican Governors Association, said ahead of the vote. "Republicans' record fundraising and strong candidate recruitment gives the party a high chance of victory in numerous races."
Fox New's Stephen Sorace contributed to this report.