Republican Dodges Question on Social Security After Calling It a "Scheme"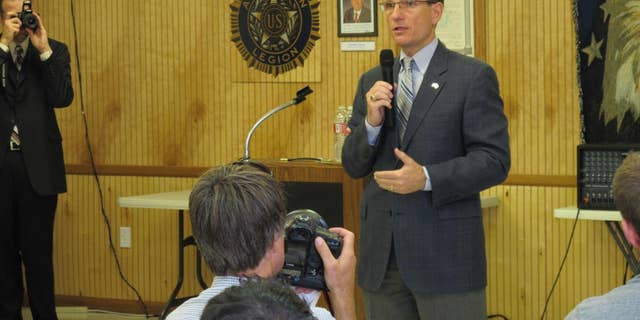 NEWYou can now listen to Fox News articles!
So Rep. Joe Heck, do you still think social security is a "pyramid scheme?"
It's a question the freshman Republican congressman from Nevada and his communications team desperately tried to avoid Wednesday night during a town hall meeting that was meant only to discuss veterans' Affairs issues in Henderson, Nevada.
The question didn't come immediately, but one veteran in attendance questioned Heck's support of the entitlement program altogether.
"I just want to know, where do you stand on protecting our benefits as far as social security, for those who will need it and those who are getting it now, and Medicare, sir?" asked the veteran, who served 14 years in the Air Force.
"The fact is, I'm committed to preserving both benefits," said the Nevada lawmaker. "But for future generations, there may need to be changes for long-term sustainability."
Heck came under fire last week after a video showing the congressman maligning social security at a town hall meeting surfaced on YouTube. Social security is a "pyramid scheme," he says in the video to a chorus of boos from the audience.
Following the release of the clip, Heck admitted he "misspoke." But on Tuesday, he agreed with a talk-radio show caller who called the entitlement program - you guessed it - a "pyramid scheme."
During Wednesday night's town hall, he made sure not to mince any words when it came to his feelings about the current state of big entitlement programs.
"We know that Medicare is set to go bankrupt in 2024 with no action, and social security is set to be insolvent by 2037," said Heck. "I'm [in Congress] to preserve those benefits for future generations and I will work to do so."
Shortly after this response, the question finally came when a local reporter asked Heck about the "pyramid scheme" comments. Heck tried his best to respectfully avoid the topic.
"I appreciate the question," said Heck, "but I've given my stance on social security in the previous question. This is a veterans' affairs town hall, so at this time, I will not comment on the question."