Report: US Secretary of State Rex Tillerson calls Turkish counterpart to discuss blockade against Qatar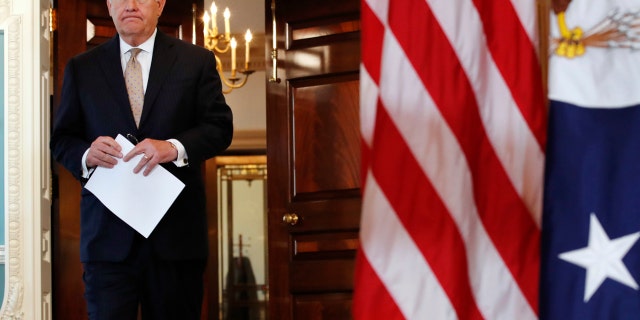 U.S. Secretary of State Rex Tillerson reportedly spoke to his Turkish counterpart late Saturday night to discuss developments in Syria and the dispute between Qatar and its fellow Arab states.
Reuters reported that Tillerson requested the call with Minister of Foreign Affairs Mevlut Cavusoglu after his pleas on Friday to end a blockade that he says is causing unintended humanitarian consequences and affecting the U.S. led mission against the Islamic State.
The phone call comes as President Trump criticized Qatar on Friday for funding terrorism "at a very high level" and demanded that it stop. The president's remarks given in the Rose Garden contradicted Tillerson who earlier urged Qatar's neighbors to ease their blockade and use "calm and thoughtful dialogue."
Tillerson also said the blockade by Qatar's neighbors is "hindering U.S. military action in the region, and the campaign against ISIS."
The escalating crisis in the Persian Gulf erupted Monday, when Saudi Arabia, the UAE, Egypt and Bahrain cut ties to Qatar, accusing the country of tolerating or even encouraging support for extremist groups, including al-Qaida's Syria branch. Qatar's neighbors have also criticized Qatar for allegedly supporting groups like the Muslim Brotherhood and Hamas.
Turkish President Tayyip Erdogan has vowed to keep supporting the outcast state as he recently approved an accord on Thursday for military training cooperation with Qatar, the news agency reported.
Erdogan, referring to Tillerson's remarks on the blockade, said in a speech on Friday that "I say it should be lifted completely".
Turkey has maintained good relations with Qatar as well as several of its Gulf Arab neighbors. Turkey and Qatar have both provided support for the Muslim Brotherhood in Egypt and backed rebels fighting to overthrow Syrian President Bashar al-Assad.
The Associated Press contributed to this report.