Rep. Raul Labrador To Introduce Bill Protecting Groups That Oppose Same-Sex Marriage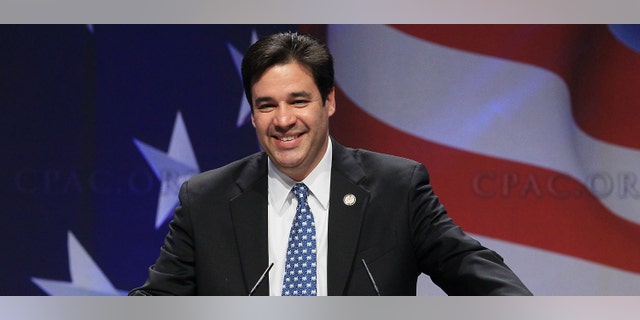 Rep. Raúl Labrador is introducing a measure on Thursday that shields groups and religious institutions opposed to same-sex marriage from being penalized by the federal government.
The Idaho Republican said that the Marriage and Religious Freedom Act "ensures that any religious institution, organization or church that believes that marriage should continue to remain between one man and one woman will not be discriminated against by the federal government," according to political newspaper The Hill.
The move comes a day after Labor Secretary Thomas Perez announced a new guidance that said that legally married same-sex couples enjoy the same federal rights as other married couples when it comes to pensions, 401(k)s, health plans and other employee benefits, even if they live in states that don't recognize their union.
The new guidance is the latest effort by the Obama administration to clarify questions left unanswered after the Supreme Court's landmark ruling in June which invalidated part of the 1996 Defense of Marriage Act, also known as "DOMA."
The interpretation is consistent with a ruling from the Internal Revenue Service last month that legally married gay couples can file joint federal tax returns even if they reside in states that do not recognize same-sex marriages.
Labrador said the measure was inspired by a concern by him and other conservatives that in the wake of the Supreme Court ruling declaring the 1996 Defense of Marriage Act unconstitutional, the Boy Scouts or Catholic Charities could lose their tax-exempt status because of their opposition to same-sex marriage.
"We have already seen the increased attack and discrimination of institutions at the state level, and we just want to ensure that it does not happen at the federal level," Labrador said, according to The Hill.
Labrador's bill has 60 co-sponsors, including two socially conservative Democrats: Reps. Mike McIntyre of North Carolina and Daniel Lipinski of Illinois.
The Hill noted: "Labrador emphasized that the bill was not an attempt to overturn the Supreme Court decision and that it should appeal to a wide range of members concerned about government intrusion, particularly following the IRS scandal."
Meanwhile, in his announcement Wednesday, Perez praised the Supreme Court decision.
"This decision represents a historic step toward equality for all American families," Perez said, "and I have directed the department's agency heads to ensure that they are implementing the decision in a way that provides maximum protection for workers and their families."
The Associated Press contributed to this report.
Follow us on twitter.com/foxnewslatino
Like us at facebook.com/foxnewslatino