Rep. Loretta Sanchez missing most House votes while running for Senate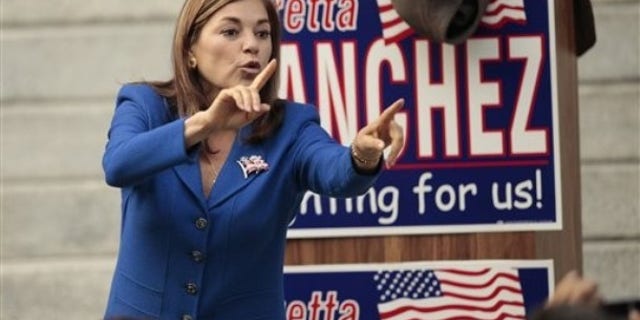 NEWYou can now listen to Fox News articles!
And the winner is ... Loretta Sanchez.
No, not for the U.S. Senate race in California to replace retiring Democrat Barbara Boxer. That will be determined on Nov. 8.
Sanchez beats all U.S. Representatives who are running for an office, other than the one they already have, in number of absences for House votes.
Sanchez appeared for only 22 of 63 votes, according to Roll Call.
The news outlet said that House members who are running for a different office – most of them for Senate seats – miss more votes after Labor Day.
Sanchez is running for Boxer's seat against California Attorney General Kamala Harris, who also is a Democrat and is the prohibitive frontrunner with a double-digit lead in the most recent polls.
The California legislator's campaign did not comment for the Roll Call story.
On average, House members vote in about 96 percent of roll call votes. Seven members voted below that. Besides Sanchez, they included Democrats John Carney of Delaware, Ann Kirkpatrick of Arizona, Tammy Duckworth of Illinois, and Republicans Todd Young of Indiana, Candice S. Miller of Michigan and Charles Boustany Jr. of Louisiana, according to Roll Call.
"Ann has been hard at work, which is why the House passed her bipartisan legislation to protect [Veterans Affairs] whistle-blowers and hold the VA accountable just last week," said D.B. Mitchell, a spokesman for Kirkpatrick, who is running against Republican Sen. John McCain.
"And it's no secret Ann logs thousands of miles traveling across Arizona to listen to and share the concerns of families who want better paying jobs, stronger schools and comprehensive immigration reform after John McCain's 33 years in Washington," Mitchell said.
Duckworth said in an interview with the Chicago CBS affiliate WBBM that he is mindful of the votes he's missing and makes sure not to miss critical ones.
"When there are votes in Congress to actually get something done, I'd be more than happy to go and vote," he said. "Unfortunately … as you'll see, we're not doing much in Washington in terms of getting the job done."
Missed votes became a high-profile issue during the GOP presidential primaries, with Sen. Marco Rubio of Florida being targeted by rivals during debates for not doing the job his constituents had elected him to do.
His one-time mentor, Florida Gov. Jeb Bush, who also ran for president, made a point of criticizing Rubio for neglecting his senatorial duties.
Rubio's challenger as he now seeks re-election to the Senate, Democratic Rep. Patrick Murphy, has kept a spotlight on the Cuban-American politician's absences during his presidential bid. Murphy, Roll Call notes, is among four House members running for an office other than their own who has not missed a single vote in September.
According to Roll Call, McCain, who is seeking his sixth term, has not missed votes in the Senate, though he missed many when he ran for president.
Like us on Facebook