Reid: Senate will vote on jobless benefits when members return Monday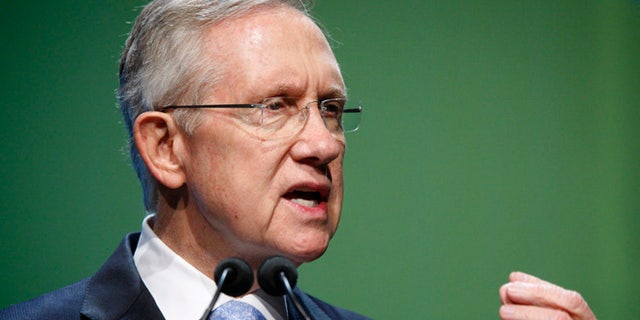 Senate Majority Leader Harry Reid says his chamber will vote Monday on extending long-term jobless benefits and that he plans to outline his 2014 legislative agenda in the coming days.
The benefits were not included in a two-year budget deal Congress reached in December, cutting off unemployment checks for 1.3 million Americans out of work longer than six months.
Reid, D-Nevada, is optimistic that the bipartisan legislation in the Senate will get enough support from members of both parties to win passage in the Democrat-controlled chamber.
However, he offered no prediction on whether it will pass in the Republican-led House.
"I don't predict anything in the House," Reid told the Associated Press before describing the lower chamber as a "black hole of legislation."
President Obama has endorsed the proposal, but Republicans in the House have insisted that any renewal of the extended jobless benefits be offset.
Reid -- picking up on a growing theme among elected officials -- said one of his priorities will be addressing the wealth gap between the rich, poor and middle class.
"The rich are getting richer, the poor are getting poorer, the middle class is getting squeezed and it's just not fair," said Reid, adding that raising the minimum wage would be another top priority.
Reid told the wire service that he will further outline his agenda on a Sunday talk show but declined to say which one.
The Senate bill scheduled for a first vote Monday is sponsored by Nevada Republican Sen. Dean Heller and Rhode Island Democratic Sen. Jack Reed.
The measure would continue the federal jobless program for three months while a compromise is sought.
"I hope we can get that done," said Reid, who has often been at odds with the conservative Heller.
"I'm happy to see Dean has joined us," he added. "He's broken away from the Tea Party folks who don't want to do anything."
Nevada has one the highest unemployment rates in the country, and roughly 17,000 lost their benefits when the program expired Saturday.
Heller said in introducing the bill before Congress adjourned for winter break that "Providing a safety net for those in need is one of the most important functions of the federal government."
Hillary Clinton, a former New York Democratic senator with 2016 presidential ambitions, expressed her support Tuesday for extending the benefits.
"10 years ago I was proud to begin working on bipartisan efforts to save unemployment insurance," tweeted Clinton, who retired last year as secretary of State. "Let's do it again quickly in this new year."
National Economic Council Director Gene Sperling said Wednesday that failing to extend emergency unemployment insurance through 2014 will negatively impact 14 million Americans and urged Congress to do "the right thing."
Unemployed Americans will get just 26 weeks of state-paid unemployment insurance unless Congress extends the federal program that was enacted in 2008 at the height of the recession when unemployment soared.
It allowed the long-term unemployed in hard hit states like Nevada to receive benefits for up to 99 weeks. The duration was cut to 73 weeks in 2012.