Reid resumes attacks on Trump, says election 'sparked a wave of hate crimes'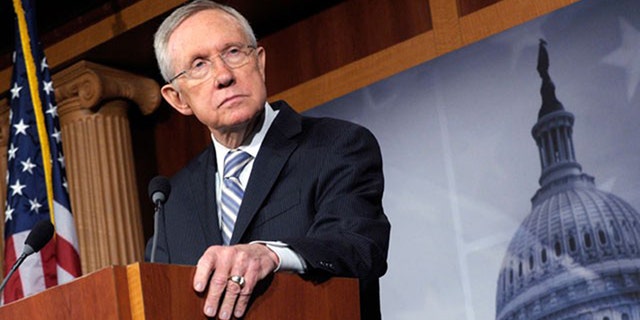 Senate Minority Leader Harry Reid resumed his attack on Donald Trump Tuesday, saying the Republican president-elect has made sexual assault a "laughing matter" and calling on him to rescind the appointment of top White House adviser Steve Bannon, whom Reid called a "champion of white supremacists."
"It's not normal for the KKK to celebrate the election of a president who is their champion," Reid, a retiring Nevada Democrat, said on the Senate floor.
Reid renewed his attack on Trump after saying last week, after Trump upset Democratic presidential nominee Hillary Clinton, that he was "a sexual predator who lost the popular vote and fueled his campaign with bigotry and hate."
Kellyanne Conway, a senior Trump adviser, on Sunday warned Reid about his attacks on Trump, which resulted in a quick response from Reid's Senate office and set up Reid's much-anticipated speech on the Senate floor.
"Be very careful about characterizing someone in a legal sense," Conway said to Reid on "Fox News Sunday."
Within minutes, a Reid staffer issued a statement that in part read: "It only took five days for President-elect Trump to try to silence his critics with the threat of legal action. This should shock and concern all Americans. … The KKK is planning a parade to celebrate Trump's victory."
On Tuesday, Reid said congressional Democrats would "work with Mr. Trump when we can."
"If Trump wants to work on policies that will help working people, we will take a pragmatic approach," he added.
However, Reid's roughly 18-minute speech was largely a condemnation of Trump, in which Reid held Trump responsible for the current national unrest and a called on him to remove Bannon, the CEO of conservative Breitbart News, from his appointed post.
"The man who lost the election by two million votes is now president," Reid said. "The election has sparked a wave of hate crimes across America. … Rescind the appointment of Steve Bannon. Don't do it. I say to Donald Trump, 'Take responsibility, rise to the dignity of the office instead of hiding behind your Twitter account and show Americans that racism and bigotry have no place in America.' "