Reid Hits Back at Ads Linking Him to Slave Labor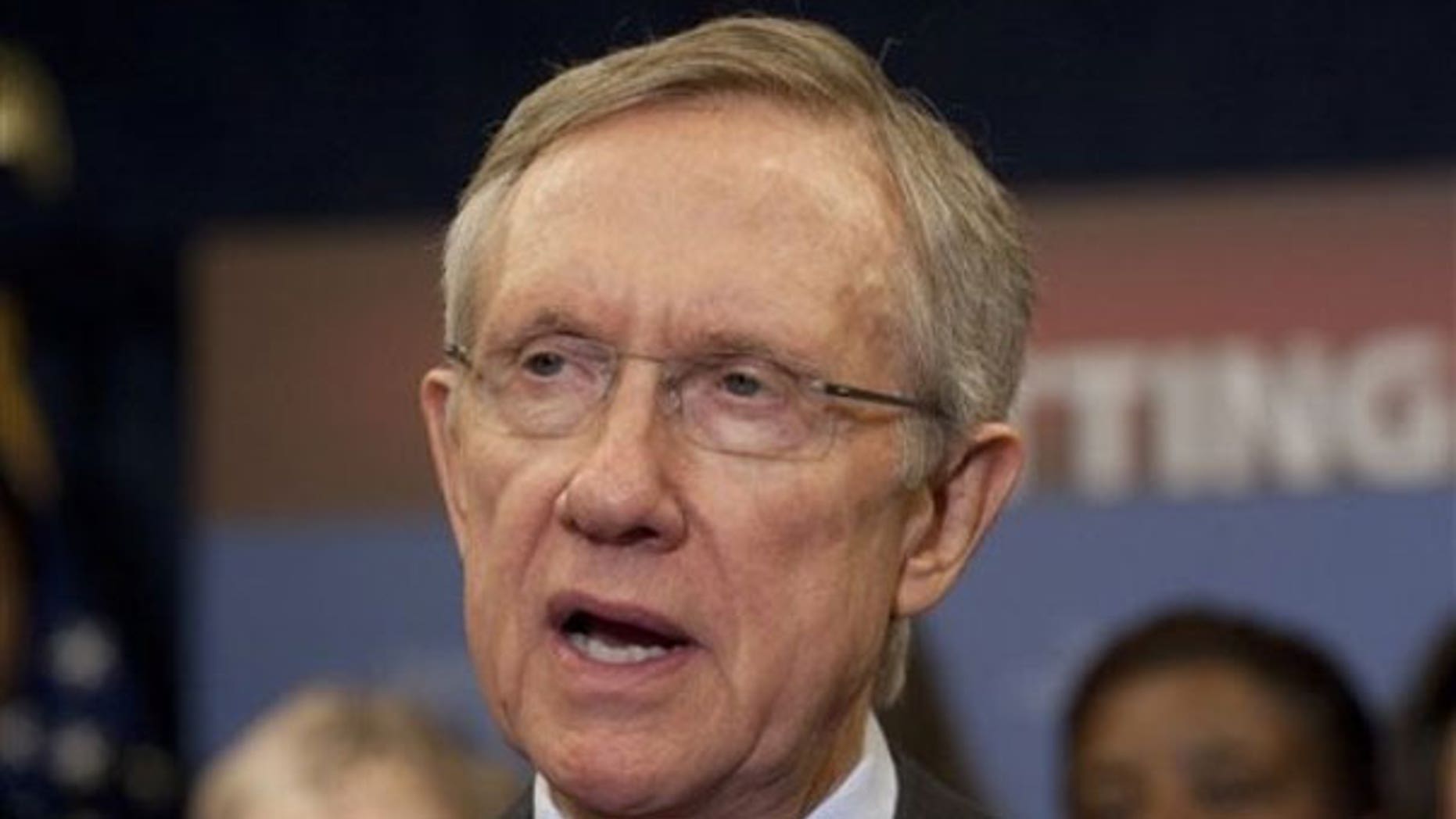 Senate Majority Leader Harry Reid, who is in a daunting re-election bid in Nevada even though he doesn't have a designated opponent yet, is hitting back against attack ads that link his support of casino operator MGM Mirage to alleged slave labor practices in Dubai.
Two online ads unveiled Monday highlight the campaign support Reid is getting from the MGM Mirage, the state's largest private employer. Dubai World controls 10 percent of MGM Mirage, and it has partnered with the casino operator on the newly completed $8.5 billion CityCenter complex in Las Vegas.
The ads claim that Sheikh Mohamed bin Rashid Al Maktoum, ruler of Dubai, is using slave labor at home to build the Gulf city-state. They continue:
"Slave labor in Dubai. Union labor in Las Vegas. And both the slave bosses and the union bosses want Harry Reid re-elected. Go figure."
The Reid campaign vigorously denounced the ads.
"These claims are patently false and Nevadans will clearly see right through their strategy," Reid campaign manager Brandon Hall said in a written statement.
"If these guys knew anything about Nevada, they would realize how outrageous it is for them to run ads regarding the state's largest employer at a time when Nevada is suffering such high unemployment," he said. "Those who know Nevada understand that the action Sen. Reid took protected tens of thousands of jobs at CityCenter.
"Any candidate in Nevada who doesn't denounce this sleaze immediately is not standing with Nevada families and is not fit to represent them in the Senate," Hall added.
MGM Mirage also strongly condemned the ads.
"It is shameful that outsiders who know nothing and don't care at all about Nevada are trying to influence what we think and do," the casino operator said in a written statement. "It is particularly outrageous that these political hit men are attacking MGM and its chairman, Jim Murren, who led the largest jobs initiative in America last year. This is a new political low for Nevada."
Republican Majority Campaign, the group behind the ads, includes Floyd Brown, the architect of the "Willie Horton" ad that helped derail Democratic candidate Michael Dukakis' 1988 presidential campaign.
Ted Jelen, a political science professor at University of Nevada-Las Vegas, said he found the anti-Reid ads to be unfair and ineffective.
"That's a four-step argument by my count and getting that into a 30-second ad is mostly confusing," he told FoxNews.com, adding that if anything "it might reinforce perceptions by people already down on Reid."
But he said the ads could also generate a backlash of sympathy for Reid.
"Saying he's a slaveholder stretches the boundaries of credibility," he said.
Gary Kreep, the head of Republican Majority Campaign, told FoxNews.com that Reid opened himself up to the attacks by releasing an ad last year touting his efforts to keep the development of CityCenter on track amid an economic crisis.
In the Reid ad, MGM Mirage CEO Murren praised the senator, saying "That man called every CEO of every bank that I know and said, 'Look, this is important to my state. Get it done.'"
Kreep said he's targeting Reid because of his claim to be a person of the people.
"Now I have no doubt of Senator Reid's humble beginnings," Kreeps said. "However, he's the 34th richest man in the Senate. He's been in politics for a long time. He's a millionaire. I'm not saying he's done anything improper, but he's not the common man."
Kreep admits he doesn't have a smoking gun to link Reid to support for slave labor. But he said there's evidence that Reid raised more money so the Sheikh would continue investing in CityCenter, which he said helps finance slave labor.
Dubai has been dogged for years by accusations of abusive labor practices and human rights violations to bolster a building boom in a city that includes the world's tallest tower, the Burj Khalifa. The Sheik ordered sweeping labor reforms in 2006 around the same time a human rights report found none of the construction would have been possible without human trafficking and exploitative labor practices.
Kreep has come under fire for his support of the widely discredited "birther" movement, which questions whether President Obama is a natural-born citizen of the U.S.
Kreep told FoxNews.com that he's handling two lawsuits related to the birther issue but said he doesn't consider himself a birther.