Rand Paul's office calls 'violent' attack a 'blindside,' knocks down reports of yard dispute
Rand Paul's office fired back Thursday at the attacker who left the Republican senator with six broken ribs, calling the "violent" assault a "blindside" and seeming to challenge reports that the clash stemmed from a landscaping dispute.
Paul's senior adviser Doug Stafford issued the senator's most detailed statement yet on the nature of the attack, just hours after Paul's neighbor Rene Boucher entered a not guilty plea in court.
"Last week Senator Paul was vigorously assaulted by someone in his neighborhood. This is a serious criminal matter involving serious injury, and is being handled by local and federal authorities," Stafford said. "As to reports of a longstanding dispute with the attacker, the Pauls have had no conversations with him in many years."
Stafford said the first so-called "conversation" with the attacker "came after Sen. Paul's ribs were broken."
"This was not a 'fight,' it was a blindside, violent attack by a disturbed person," Stafford said. "Anyone claiming otherwise is simply uninformed or seeking media attention."
The statement seemed to counter widespread media speculation about what led to the attack, including accounts that it may have stemmed from a longrunning landscaping dispute.
But Paul's office still did not shed light on what the motive may have been, and neither has Boucher.
Boucher's lawyer has said the attack had nothing to do with politics, but has not elaborated.
The accused attacker, meanwhile, appeared in Warren County Circuit Court Thursday before Judge Brent Potter. He pleaded not guilty to a charge of misdemeanor fourth-degree assault stemming from last week's attack.
Boucher and his lawyer, Matthew Baker, agreed to a pre-trial conference scheduled for Nov. 30 to review the charges. The defendant is free on a $7,500 bond.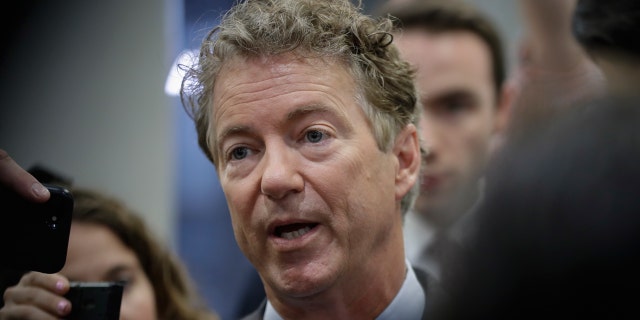 Before his office issued the statement, Paul circulated two reports on Wednesday that seemed to question the 'landscaping dispute' explanation.
Paul posted on his Twitter feed a report linking to a Breitbart News story headlined "Rand Paul's neighbors say reports blaming savage assault on 'landscaping dispute' are fake news," and one from The Washington Examiner titled, "Rand Paul's neighbors rip media 'landscaping dispute' reports."
Meanwhile, the senator's injuries are worse than initially thought.
Paul, R-Ky., on Wednesday shared a medical update saying he had six broken ribs and a "pleural effusion."
A pleural effusion "is the build-up of excess fluid between the layers of the pleura outside the lungs," according to the Cleveland Clinic.
Paul's office initially said the senator broke five ribs after the incident.
"Displaced rib fractures can lead to life-threatening injuries such as: hemopneumothorax, pneumothorax, pneumonia, internal bleeding, laceration of internal organs and lung contusions," Stafford said earlier this week. "Senator Paul does have lung contusions currently."
The senator is still expected to return to Capitol Hill in the coming days.
As for the single misdemeanor charge, State Police told Fox News on Monday that in Kentucky, there is a statute that considers an assault a felony only if there is serious physical injury.
Sources in the Paul's office told Fox News' senior judicial analyst Judge Andrew Napolitano that the senator has been told to expect federal charges to be filed against his attacker.
Though the State Police was unable to provide Fox News a timeline for when their investigation will be complete, a spokesman said "it is up to Commonwealth prosecutors" whether Boucher's charges could change from misdemeanor to felony based on the severity of those injuries.
"Prosecutors will review our case in its entirety and they'll make a determination if it will be bumped up to felony," Jeremy Hodges, master trooper and public affairs officer for Kentucky State Police Post 3 at Bowling Green, told Fox News on Monday. "The senator's injuries are part of the investigation."
According to the police report, "the victim, Rand Paul, told police that his neighbor came onto his property and tackled him from behind, forcing him to the ground and causing pain." The report also said "the defendant admitted going onto Paul's property and tackling him."
MOTIVE MYSTERY IN RAND PAUL ATTACK: NEIGHBOR'S LAWYER SAYS IT HAD 'NOTHING TO DO' WITH POLITICS
Boucher's attorney told Fox News on Monday that Boucher and Paul have been neighbors for 17 years and were "prominent members of the local medical community and worked together when they were both practicing physicians."
"The unfortunate occurrence of November 3rd has absolutely nothing to do with either's politics or political agendas," Baker told Fox News. "It was a very regrettable dispute between two neighbors over a matter that most people would regard as trivial. We sincerely hope that Senator Paul is doing well and that these two gentlemen can get back to being neighbors as quickly as possible."
When contacted by Fox News throughout the week for clarification, Baker declined to elaborate on the "trivial" matter that led to Paul's injuries.