Rand Paul says man arrested for threatening to kill him and 'chop up' family with an ax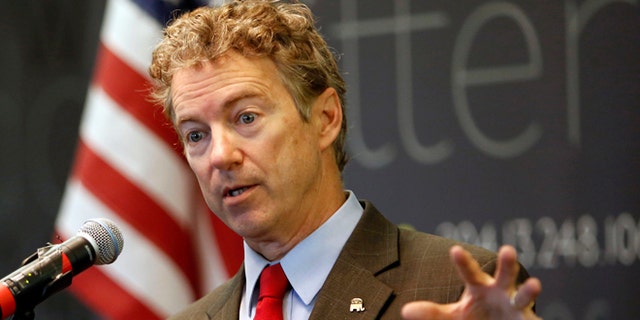 Kentucky Sen. Rand Paul tweeted his thanks on Monday to the U.S. Capitol Police for arresting a man who allegedly threatened to kill the Republican lawmaker and chop up his family with an ax.
"Thank you to the U.S. Capitol Police for their arrest of the man who recently threatened to kill my family and me," Paul tweeted.
While the U.S. Capitol Police told Fox News they do not comment on open investigations, Paul was more forthcoming about the threats against him and his family.
Speaking at an event on Monday in Litchfield, Ky., Paul said the unnamed man had called his Bowling Green office and "threatened to kill me and chop up my family with an ax."
"It's just horrendous that we have to deal with things like this," Paul said, according to the Louisville Courier Journal.
This is not the first time Paul has faced violence and threats.
In November, Paul's 59-year-old neighbor, Rene Boucher, attacked the lawmaker, apparently in retaliation for stacking brush into a pile near his property in Bowling Green. Paul sustained six broken ribs and a "pleural effusion" – or a "build-up of excess fluid between the layers of the pleura outside the lungs," according to the Cleveland Clinic.
U.S. District Judge Marianne Battani, a special judge called in from Michigan, described the attack as a "dispute between neighbors" and an "isolated incident," not motivated by politics.
Boucher was sentenced to 30 days in prison and a year of supervised release after his time behind bars. He was also ordered to stay away from the Paul family and pay a $10,000 fine.
The Kentucky senator also was one of the lawmakers on the baseball diamond when gunman James Hodgkinson opened fire last summer and shot several congressional staffers as well as House Majority Whip Steve Scalise, R-La.
The threats against Paul are just the latest in a series leveled against lawmakers and government appointees recently.
A 33-year-old California man, Markara Man, was charged last week with threatening to kill FCC Chairman Ajit Pai's children. Man was allegedly angry that the FCC voted to repeal the Obama-era net neutrality rules.