Race for 2020 Democratic nomination already getting started in New Hampshire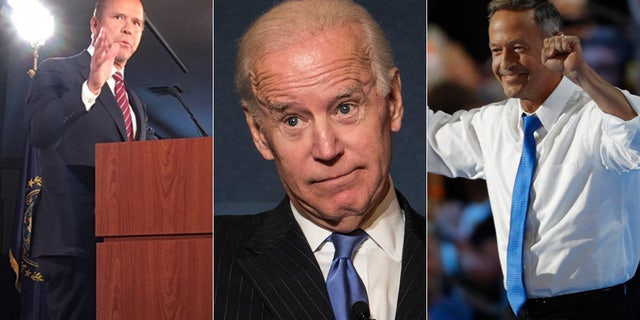 NEWYou can now listen to Fox News articles!
HOLLIS, NH – Not one year into the Trump administration, New Hampshire already is buzzing with the anticipation of 2020 and playing host to an early screen test for a parade of potential and declared White House hopefuls.
The state Democratic Party's annual Kennedy-Clinton fall fundraising gala – held on a cold and windy November night this past Friday, in part to celebrate their 2017 victories and look ahead to the midterms – featured two headliners with an eye on the next presidential race.
Maryland Rep. John Delaney, who over the summer launched a stunningly early 2020 presidential campaign, told the audience that "hyper partisan politics is tearing our country apart."
The message from the three-term congressman was "what we really need a president to do is to bring us together, to restore civility in politics and respect in public service."
Eight-term Rep. Tim Ryan of Ohio, also a potential contender for the next Democratic presidential nomination, preached to the crowd that "the Democratic Party's got to be the party that builds the new system."
"We need to build systems that put people first," he added.
Both Democrats likely would fall deep into the dark-horse tier should they pursue a primary bid come 2020. Ryan's biggest claim to political fame to date is having unsuccessfully challenged Nancy Pelosi last year for House Democratic leader.
But the weekend speeches and other maneuvers point to a Democratic race quietly underway in both New Hampshire, which holds the first-in-the-nation primary, and Iowa, which holds the first caucuses – while the national media are focused on the daily drama of Donald Trump's presidency and partisan battles being fought in Washington.
The trips by Delaney and Ryan to the Granite State were their second this month alone. Both journeyed to New Hampshire in the days before the November elections, in support of Democratic candidates running in municipal races.
Delaney and Ryan aren't the only prominent Democrats trekking to the well-trodden presidential candidate testing ground.
Former Missouri secretary of state and 2016 U.S. Senate candidate Jason Kander, who now leads the voting rights group Let America Vote, has made a whopping six trips to the Granite State this year. Former Maryland Gov. Martin O'Malley, who ran for the 2016 Democratic presidential nomination, has stopped by three times. Los Angeles Mayor Eric Garcetti flew in all the way from California.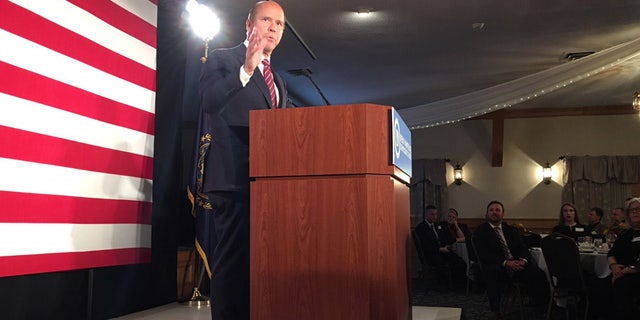 Rep. Annie Kuster, who represents the Granite State's 2nd Congressional District, said she was "excited to welcome my colleagues Congressmen John Delaney and Tim Ryan. This is how we choose the next president of the United States. So welcome to New Hampshire."
But it's not just the potential contenders with little name recognition.
Joe Biden headlined the state Democratic Party's major spring fundraising dinner, which sparked plenty of speculation that the former vice president's considering another White House run. And Sen. Bernie Sanders of neighboring Vermont, who convincingly won the 2016 state primary and battled Hillary Clinton to the end of the presidential primary calendar, headlined Labor Day events in Manchester and Concord and was the main attraction last month at a Strafford County Democratic Committee gathering.
BERNIE SANDERS KEEPS 'EM GUESSING
Add them all up and you get 21 visits this year by eight potential presidential candidates.
Partially fueling these trips is the Republican in the White House.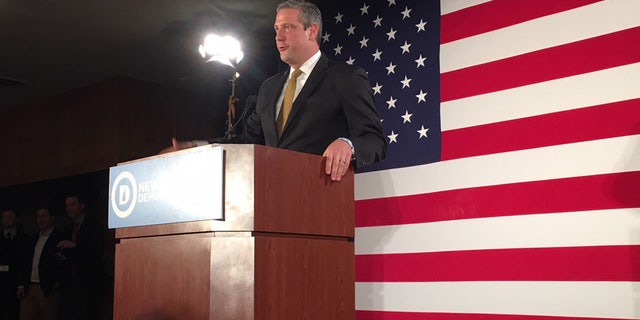 "There is a need from progressives in New Hampshire and across the country to hear from people who are of substance and character because it is very hard for a lot of folks to comprehend the presidency of Donald Trump," longtime state party Chairman Ray Buckley said.
Trump's approval ratings are far lower at this point in his presidency than any predecessor in the last 60 years other than Bill Clinton.
While 2020 is still a long way away, the possibility of facing an embattled GOP president in the next election appears enticing to a growing number of Democrats.
"People think the nomination is worth having because Trump's approval numbers are so poor," University of New Hampshire political science professor Dante Scala said.
Another factor is Hillary Clinton. With the party's 2016 nominee announcing she won't run again for public office, the Democrats may see their largest presidential field and most wide-open race in nearly a generation.
That wasn't the case four years ago, when O'Malley was the only potential 2016 Democratic hopeful to pay New Hampshire a visit in 2013. The likely prospect of Clinton's candidacy for the party's presidential nomination kept the field, and the very early visits, to a minimum.
Four years earlier, incumbent Democratic President Barack Obama faced only a handful of very minor candidates in his virtually uncontested re-nomination effort.
It's been a dozen years since New Hampshire has seen such a large number of potential candidates paying visits the year after a presidential election. Eight potential Democratic hopefuls traveled to the Granite State in 2005.
Twelve years is a long time in politics.
"There has been a bottleneck for nearly a generation of up-and-comers to explore their future," Buckley explained. "I think it's a great thing that we have this entire new generation of folks that are thinking about it, exploring it."
While the rest of the potential field is merely mulling at this early date, Delaney's all in.
"No cat and mouse games. I'm all in and I'm running for president," Delaney said in an interview as he campaigned in Manchester, N.H., earlier this month for Democratic mayoral candidate Joyce Craig.
When it was pointed out that Delaney is far from a household name in New Hampshire, the congressman quickly shot back "we're going to change that."
He vowed to visit the state twice a month going forward.
Ryan's not ready to plunge in just yet. He said the main job for Democrats right now is to win back control of Congress in next year's elections, and to concentrate on the White House when the midterms are over.
"My recommendation is just focus on 2018. Stay focused, stay present in the year we're in and let's make it happen. Everyone else can have that conversation afterward," he said.
But he's definitely not ruling out a run for president.
"To be mentioned for these kind of things is a big honor," Ryan remarked. "But I've been around long enough to know the kind of challenges that come with those kind of decisions."
Ryan did say he'd be back in New Hampshire next year to help campaign for fellow Democrats.