Qatari man, once held as enemy combatant by US, returns home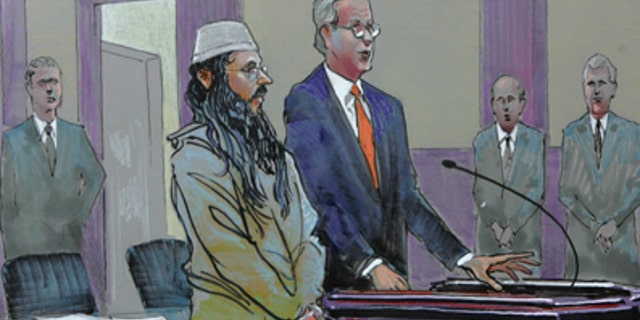 NEWYou can now listen to Fox News articles!
DOHA, Qatar – A Qatari man declared an enemy combatant by the Bush administration following the Sept. 11, 2001 attacks and imprisoned over links to Al Qaeda has returned home to the Gulf nation after quietly being released by U.S. authorities.
Ali al-Marri was arrested in December 2001 while attending graduate school in central Illinois. He was held without charge for nearly six years in a U.S. Navy brig in South Carolina before eventually pleading guilty and receiving a sentence of just over eight years behind bars.
Al-Marri's nephew, Saleh Garallah Kahlah al-Marri, said Sunday that his uncle returned home to the small energy-rich country the previous evening and was greeted by representatives from the Qatari interior and foreign ministries.
"He is in high spirits," Saleh al-Marri said. The nephew thanked Qatari officials for their help in getting al-Marri back home, saying they made "tremendous efforts" to do so.
Al-Marri will not be making comments to the media for now because "we want to give him an opportunity to reintegrate into society," the nephew added.
Qatari officials could not immediately be reached on al-Marri's release. The U.S. Embassy in Doha had no comment.
"We were advised by the Qatar embassy that Ali has arrived home. His family has confirmed his arrival," al-Marri's defense attorney, Andrew J. Savage, said in a brief email.
Al-Marri was sentenced to eight years in prison in 2009 after pleading guilty to conspiring to provide material support or resources to a foreign terrorist organization. He was expected to serve less than six years in consideration for time spent behind bars before and after his stay in the brig.
He admitted to training in Al Qaeda camps and staying in Al Qaeda safe houses in Pakistan between 1998 and 2001, as well as having contacts with accused Sept. 11 mastermind Khalid Sheikh Mohammed and Mustafa Ahmad al-Hawsawi, who allegedly helped the Sept. 11 hijackers.
At his trial, he expressed sorrow for helping Al Qaeda and said he never intended to hurt anyone. No evidence showed he had a specific mission in the U.S., but U.S. District Judge Michael Mihm determined that al-Marri's decision not to change course after the 9/11 attacks showed he intended to remain with the terrorist organization.
Al-Marri could have faced up to 15 years in prison. Mihm sentenced him to only eight years and four months behind bars because of what the judge called his "unacceptable" treatment in the Navy brig.
His defense team presented evidence and testimony that al-Marri endured sensory deprivation, lengthy interrogations, long periods of isolation, and threats to harm his family while in Navy custody.
The Qatari man was arrested while a graduate student at Bradley University in central Illinois. President George W. Bush's administration declared him an enemy combatant in 2003.
The Supreme Court agreed in December 2008 to consider his challenge of that status, and he was handed over to civilian authorities to stand trial in Illinois.