Putin power play casts cloud over Obama's 'reset' with Russia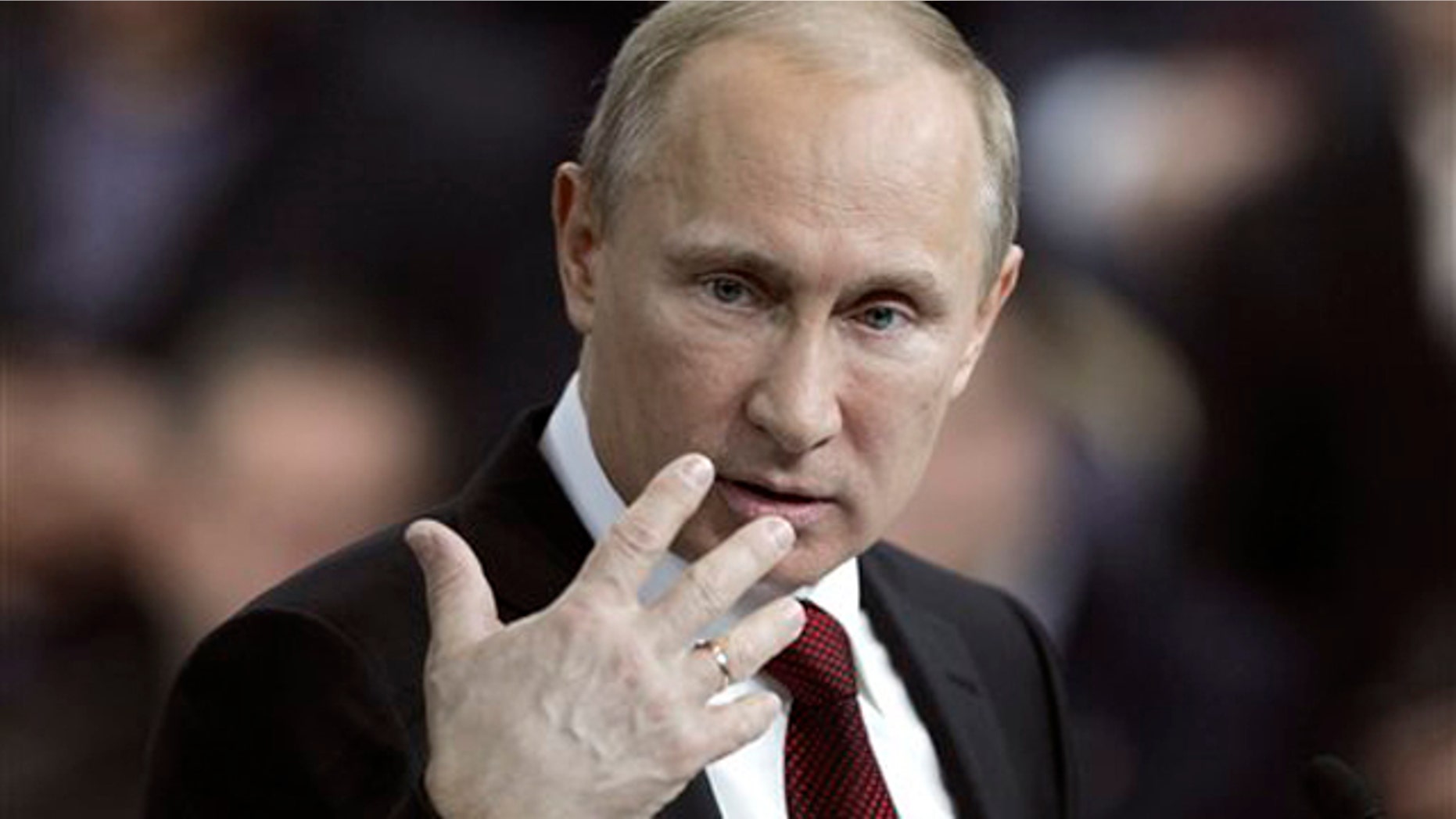 The United States may have to hit reset on its "reset" with Russia, as an embattled-yet-emboldened Vladimir Putin aims to reclaim the presidency after a four-year hiatus.
Ahead of this Sunday's elections, Putin has been running a decidedly anti-American campaign. The rhetoric follows clashes with the Obama administration over Syria, missile defense and December's parliamentary elections.
Should Putin win, as he is widely expected to, the victory could put on ice the Obama administration's careful attempts to mend ties with Moscow.
"That's gone," said Leon Aron, director of the American Enterprise Institute's Russian Studies program. "Putin has blown it away."
While current Russian President Dmitry Medvedev was assumed all along to be under Putin's thumb -- assumptions seemingly confirmed by the announcement last year that Putin would swap jobs with him -- Medvedev was a more amenable figurehead for the Obama administration.
He was seen as a kinder, gentler Putin, somebody with whom the administration could conduct at least a little business. And they did, making strides on reductions in nuclear warheads and NATO access into Afghanistan.
But that relationship has hit a patch of rough tundra lately, most recently over Russia's refusal to go along with tough action on the U.N. Security Council against Syria's Bashar Assad.
Another six, possibly 12, years of Putin as the United States' negotiating partner could make that relationship frostier still.
Fiona Hill, director of the Center on the United States and Europe at The Brookings Institution, said Putin's anti-U.S. posture on the campaign trail is "not going to bode well for U.S. relations."
A second Putin presidency is likely to be far more "defensive" than the first, she said, because he faces serious opposition at home.
This means "he's more likely to play to the crowd, more likely to push harder-line policies," Hill said.
Analysts say a Putin presidency virtually ensures the U.N. Security Council, where Russia has veto power, will be a barrier for the United States, and means Russia will continue to oppose efforts to pursue a missile defense shield in Europe.
The U.S.-Russia "reset" had been starting to sour for months.
Putin in December effectively accused Secretary of State Hillary Clinton of fomenting unrest in his country. Clinton said the December parliamentary elections were "neither free nor fair."
Administration officials also condemned Russia and China for recently voting against an anti-Assad resolution at the U.N.
In the run-up to Sunday's election, Obama administration officials are not saying much.
White House Press Secretary Jay Carney on Friday said: "We have a very important relationship with Russia, and we will continue to have that important relationship."
Asked about the elections specifically, he said: "I know (Obama) is fully aware of the upcoming elections."
At the State Department, Assistant Secretary Philip Gordon tweeted on Friday about the "value of stronger U.S-Russia relations."
U.S. Ambassador Michael McFaul last month also told Russia Today that "we've had a very productive run over the last three years." McFaul, while defending his meetings with opposition leaders, said President Obama wants to continue the "momentum" with Russia while acknowledging it would be a "difficult period."
"We're not changing. The reset is our policy. We seek to execute it," he said.
The U.S. policy toward Russia, of course, could change with the November elections.
Aron said a Republican administration would be likely to conduct a "long reassessment" of that relationship -- though an administration of either party would be dealing with the same potential level of hostility.
Hill, though, said the pragmatic Putin could dial back the rhetoric after the campaign, arguing that most Russians "don't always buy into" the anti-American talk.
"There's limits to how much he can keep pushing this," she said.