"Purple for the People" Slurpee Unity Tour Arrives in D.C.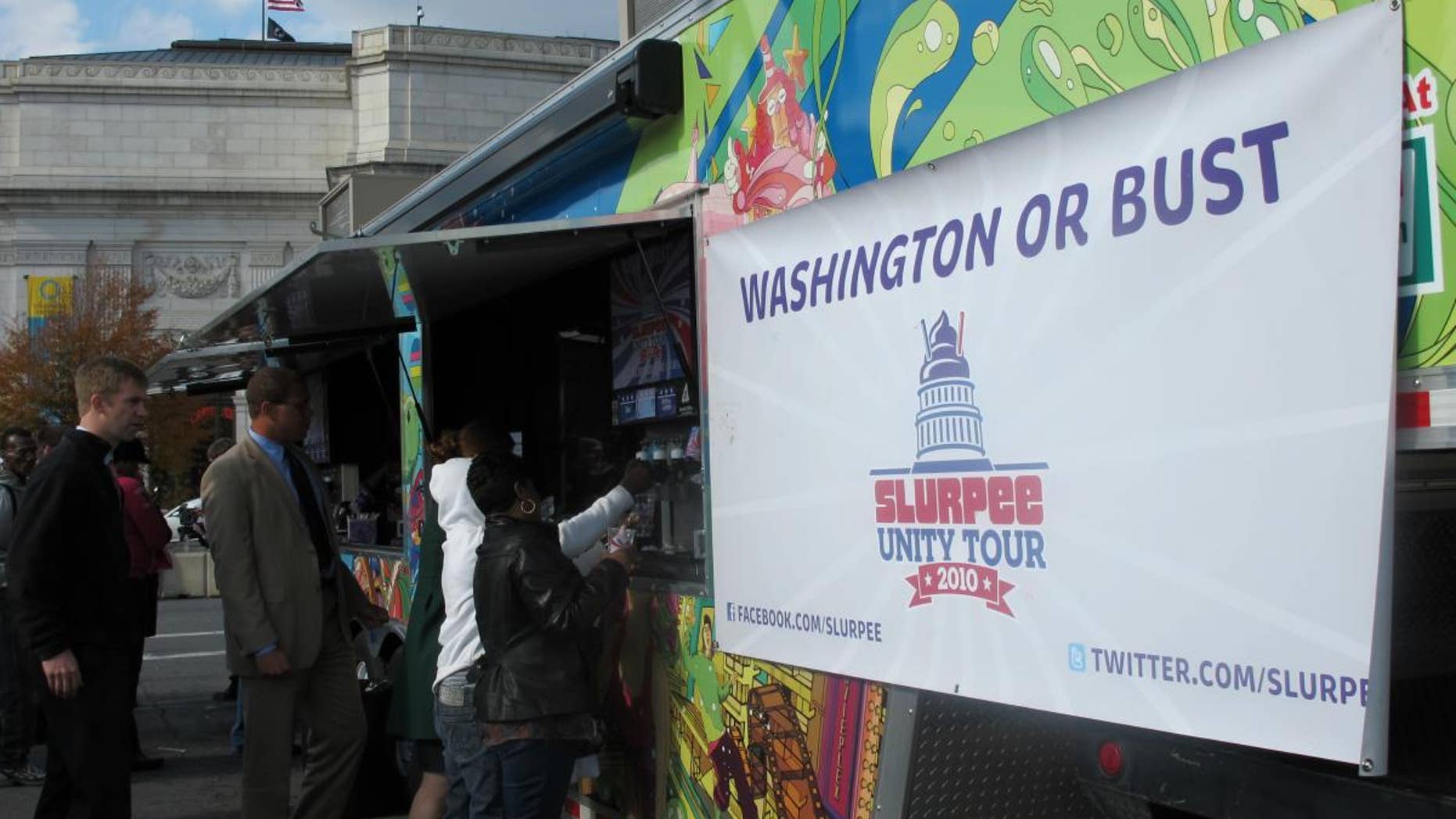 Aiming to soothe political tensions in the nation's capitol, popular convenience store 7-Eleven handed out free icy confections at Union Station in Washington Thursday. The Slurpee Unity Tour wrapped up its two-week-long cross country journey, bringing the bipartisan debate right to lawmakers doorsteps.
Slurpee launched a new grape flavored slush drink for the tour titled "purple for the people." The color was chosen based on the idea of mixing red for Republicans and blue for Democrats in hopes the parties will work together in passing legislation on the Hill.
The inspiration for the tour came after President Obama held a news conference at the White House on November 3, where Bloomberg reporter Hans Nichols asked the president if he will have John Boehner over for a "Slurpee Summit."
"We are hoping there will be a Slurpee summit" Daniel May, 7-Eleven Marketing Manager told FOX News. The tour has "sent formal invitations to everybody and everybody is welcome" he added.
But the start of this tour really began during the heated rhetoric of 2010 Midterm Elections. President Obama hit the campaign trail stumping for Democratic candidates using an analogy to describe how Republicans drove the economy into a ditch.
"Somehow the Republicans, they fled the scene. And now they're up on the street and they're looking down, and we call them down to help and they say, no, that's all right. They're sipping Slurpees -- they're fanning themselves. They're saying, you're not pushing hard enough. Sometimes they're kicking dirt down into the ditch -- making it a little harder for us." the president stated at a rally in Cleveland Ohio on October 31.
After the president made these remarks several times on the campaign trail, White House Press Secretary Robert Gibbs maintained that 7-Eleven "declined to comment specifically that Slurpees were a Republican drink"
7-Eleven and Slurpee are hopeful that this idea of a bipartisan summit will come to fruition. "We truly hope there is one and if they want Slurpees there, we will make sure to bring them." May remarked.
The tour will conclude Thursday night with the band Blues Traveler playing a free concert in downtown DC.
Despite the long journey from Dallas to DC, this Slurpee train has arrived at Union Station with full force!