Protests across the U.S. mar Mexican president's White House meeting with Obama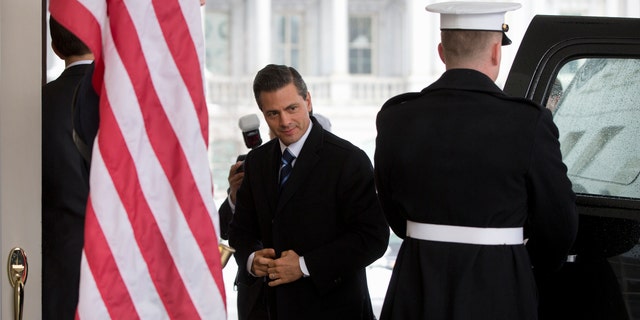 NEWYou can now listen to Fox News articles!
It was supposed to be "Mexico's moment" – a new era of transparency and reform heralded in by President Enrique Peña Nieto. Since he took office a little over two years ago, however, the Mexican president has been hit with corruption allegations, a rise in drug-related, violent crime and the continuing controversy surrounding 43 missing college students in the state of Guerrero.
And now it appears that Peña Nieto's problems that have dogged him at home have followed him to the United States.
As the Mexican leader sat down in the Oval Office with President Barack Obama and Vice President Joe Biden, a group of demonstrators gathered outside the White House in the freezing, snowy weather to protest against the meeting in light of the recent events in Mexico.
"We have more than 13 groups in the U.S. that are coming out to express their absolute dismay and even disgust that our president is meeting with Enrique Peña Nieto," Roberto Lovato, a writer and activist who helped organized the so-called #USTired2 movement, told Fox News Latino. "It's dismaying to see the White House not speak forcefully on the matter."
Once praised, both in Mexico and abroad, for a number of groundbreaking reforms, Peña Nieto has in the last six months seen his standing plummet thanks to the corruption scandals, rampant violence – not a small amount of which is carried out by official and unofficial agents of the government – and demonstrations that have roiled the country.
Peña Nieto began his administration in December 2012 hoping to concentrate on economic and legal reforms and avoid the focus on drug-gang violence that dominated the term of his predecessor, Felipe Calderón. The disappearance of 43 students from the Raúl Isidro Burgos Rural Teachers' College in Ayotzinapa, Guerrero, and the alleged collusion between a local mayor, his wife, the municipal police and a drug gang, however, have forced the issue back to the forefront.
The demonstrators on Tuesday outside the White House and in 12 other cities want the U.S. to take a more hardline stance against the human rights' abuses in Mexico – something akin to how Washington reacts to places like Venezuela and Iran – and cut funding for the Mérida Initiative – also pejoratively known as "Plan Mexico" – which is a security agreement between the two countries signed in 2008 that, among other things, has provided $2.1 billion to Mexico to combat drug trafficking in the country.
While the Initiative is loosely modeled after a similar effort in Colombia, many critics claim that the plan is doing more harm than good – citing as evidence the widespread corruption in Mexico's civil police forces and a soaring murder rate since its implementation.
"Plan Mexico has been an abject and utter failure," Lovato said. "You claim to be fighting the cartels, but you're giving money to the people who are helping these cartels."
Among those taking part in Tuesday's protest in Washington were Nansi Cisneros, whose brother was disappeared in October of 2013 after being deported, and José Luís Avila, whose wife and naturalized U.S. citizen, Nestora Salgado, has been detained in Mexico since last August allegedly for her role in speaking out against organized crime.
The protests in the U.S. have cast an even darker shadow over Peña Nieto's visit to Washington, with security and violence being the main focus of his visit instead of trade and commerce.
"This is not what he would have wanted to come away from a meeting four months ago," Jason Marczak, the deputy director of the Adrienne Arsht Latin America Center at the Atlantic Council told FNL. "He would have liked to talk about the economy, but the situation has changed."
Peña Nieto told Mexican protesters late last year that it was time to "move beyond" the missing students case just weeks after their abduction, and he took a month to meet with their families.
Human Rights Watch wrote a letter to Obama Monday urging him to press Peña Nieto to take the case and "a broader pattern of abuse and impunity" in Mexico more seriously. Obama administration officials responded that Obama plans to raise the issue of strengthening Mexico's law enforcement and judicial institutions during the visit, which includes an Oval Office meeting followed by a working lunch.
Sergio Alcocer, Mexican undersecretary for North America affairs, said he didn't expect the missing students' case to come up between the two world leaders and pointed out that the U.S. has dealt with a number of its own scandals and protests in recent months, in places like Missouri and New York City.
"We have cases of violence in different parts of the world," Alcocer said. "Within the United States we know there has been this kind of violence in the area of Missouri, to mention just one case."
The Associated Press contributed to this report.