Protesters call out Pelosi over Trump DACA deal
NEWYou can now listen to Fox News articles!
House Minority Leader Nancy Pelosi got an earful on Monday after protesters in San Francisco angrily confronted her for striking a tentative deal with President Trump over a program to extend legal protections to young undocumented immigrants.
A group of protesters shouted "you're a liar" at the California Democrat. The pop-up protest lasted more than 30 minutes and ended with a visibly shaken Pelosi cutting her scheduled news conference short.
"You don't know what you're talking about," Pelosi told the group. "It's clear you don't want any answers."
At one point, she said, "Just stop it."
As she left the event, she told reporters, "(Protesters) don't want the Dream Act."
Pelosi was in her home city to call for legislation that would protect young immigrants brought to the U.S. illegally as children or by parents who overstayed visas -- a program known as Deferred Action for Childhood Arrivals, or DACA.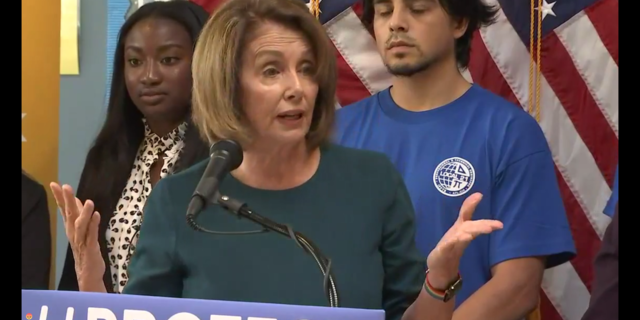 Trump recently announced plans to halt DACA. He's since held meetings with Pelosi and Senate Democratic leader Chuck Schumer to discuss renewing it and increasing border security.
The Democrats say a deal has been reached, but the White House has denied it.
The Associated Press contributed to this report.