Pro-gun rights activists rally against new measures on firearm sales in Vermont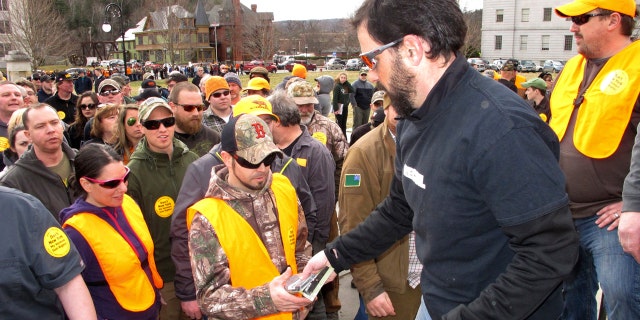 NEWYou can now listen to Fox News articles!
Several hundred people gathered in Vermont Saturday to denounce new gun restriction measures that await the governor's signature before becoming law.
Some protesters brought along guns to rallies in South Burlington, Barre and Bennington.
Pro Rights 2A organizer Christopher Covey said it's not the gun that people should fear -- "it's the gun in the wrong hand."
A handful of protesters in South Burlington toted AR-15 semiautomatic rifles, local media reported.
Marine veteran Nicholas Halverson brought his AR-15 to dispel "stigma" about the gun, which he said is "no different than any other rifle."
Sheldon Rheaume told Fox 44/ABC 22 in Burlington that he brought an AR-15 to the rally to prove a point.
"This isn't an evil rifle," he said. "It's a tool."
The bills that Gov. Phil Scott is expected to sign would raise the legal age for gun purchases to 21 and extend mandatory background checks to private gun sales. The bills would also ban bump stocks and high capacity magazines and make it easier to take guns away from someone considered a danger to themselves or others and from people arrested or cited for domestic assault.
Scott said he will sign the bills this week, Fox 44 reported.
Lawmakers passed the bills in response to the Feb. 14 mass shooting at Marjory Stoneman Douglas High School in Parkland, Fla.
Gun rights activists handed out high-capacity magazines at a rally outside the Vermont State House last week after the bills passed the House and Senate chambers.
Vermont's constitution protects a person's right to bear arms to defend themselves and the state.
Those at the rally in South Burlington Saturday don't feel Scott sees their side of the debate and they say they will remember in November, WCAX-TV reported.
"I just hope and pray that he really realizes what he is doing and what he is signing on for," protester Naomi Snelling said, referring to the governor.
She said she doesn't believe the bills will protect students.
The Burlington Free Press interviewed 15-year-old Matthew Hayden, who attended the rally with a .38 sidearm.
Hayden has been shooting since he was 5 and took a hunter-safety course when he was 10 or 11.
"I'm all for guns because I go hunting, and to defend your house if there's a robbery — for self defense," he said.
The Associated Press contributed to this report.