President Obama's immigration executive order boosts his popularity among Latinos, poll shows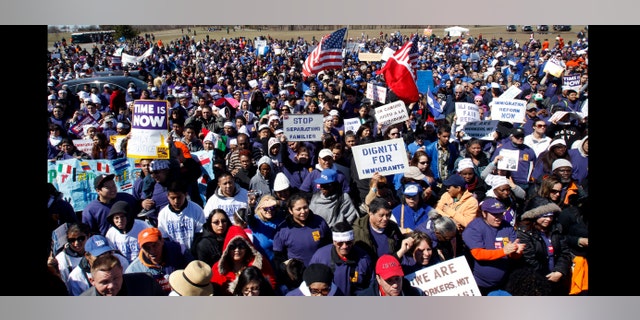 NEWYou can now listen to Fox News articles!
Latinos favor President Barack Obama's executive action on immigration by a more than 2-to-1 margin, in contrast to a slight majority of Americans overall, who oppose it, according to a new Gallup poll.
About 64 percent of Latinos said they approve of the president's order, which could extend relief from deportation to some 5 million undocumented immigrants.
Even more non-Latino blacks, 68 percent, approve of the order.
But a majority, or 62 percent, of non-Latino whites disapprove, the poll shows.
As a whole, Americans disapprove of the order, 51-to-41 percent.
The Gallup poll, authors said, did not solicit the respondents' views on the various aspects of the executive order, but rather on the very act of altering immigration policy through the unilateral move, without Congress.
"Thus, opposition to Obama's policy may have as much to do with his use of the executive order rather than the legislative process," the authors said, "or simply political opposition to Obama and his agenda more generally, as to the specifics of what he is proposing."
The poll found that a majority of Americans of all races are closely following news about Obama's executive order, which also tightens border security and interior enforcement.
Another report released by Gallup on Wednesday showed that after his executive action announcement on Nov. 20, Hispanic approval of Obama's job performance climbed 12 points, to 64 percent. Overall, among all Americans, his approval rating rose minimally, only 2 percent.
Among non-Latino blacks and whites, his approval rating barely changed from before he announced his executive action.
"Hispanic Americans' opinions of the president's performance have varied more since he took office than has been the case among blacks and whites," the report said. "Monthly approval ratings among Hispanics reached a high of 82 percent early in Obama's term in May 2009, and a low of 47 percent in September 2014. This 35-percentage-point range is wider than the 27-point range among whites and the 14-point range among blacks."
Follow us on twitter.com/foxnewslatino
Like us at facebook.com/foxnewslatino