Pompeo says North Korean official to deliver 'personal letter' from Kim Jong Un to White House
Secretary of State Mike Pompeo said Thursday that North Korean official Kim Yong Chol will travel to Washington to deliver a "personal letter" from the rogue regime's leader Kim Jong Un, while saying talks for a potential summit are moving in the "right direction."
Pompeo, after holding meetings with the visiting senior official in New York City, said the North Korean envoy will hand off the letter on Friday in D.C. It is presumably the formal response to President Trump's letter last week canceling the summit.
But since then, planning discussions have resumed, including Pompeo's high-level meetings these past two days in New York. Pompeo told reporters a summit in Singapore is "expected."
"I am confident we are moving in the right direction," Pompeo said, noting that both nations had teams in Singapore to prepare for a summit between Trump and Kim, which was initially slated for June 12. Trump had called it off last week in response to threatening rhetoric from the DPRK.
Pompeo said it was unclear whether the meeting would actually take place on June 12, but said that "real progress" has been made in meetings with North Korean officials this week.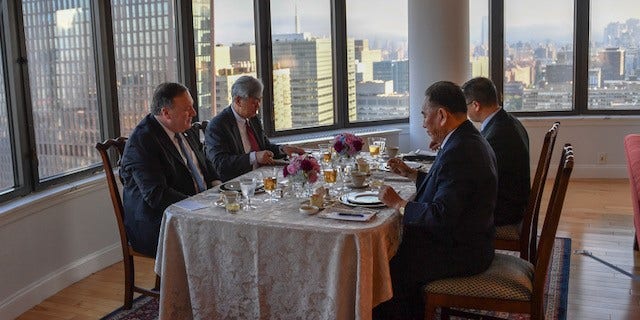 "Kim Yong Chol will travel to Washington to deliver a personal letter from Kim Jong Un," Pompeo said, adding that the two leaders have created a "unique opportunity" to "lead into a new era of peace, prosperity and security."
A senior administration official told Fox News that the official is planning to meet with Trump at the White House Friday to hand-deliver the letter. Pompeo is expected to join in the meeting.
Trump wrote in his letter last week that the talks would be "inappropriate" following the "hostility" from North Korea—Vice Minister of the Foreign Ministry Choe Son Hui had said that whether the U.S. "will meet us at a meeting room or encounter us at a nuclear-to-nuclear showdown is entirely dependent upon the decision and behavior of the United States," according to South Korea's Yonhap News Agency.
WHITE HOUSE PULLS OUT OF SUMMIT WITH NORTH KOREA'S KIM JONG UN
Earlier Thursday, the president said that it may take more than one meeting with Kim to agree on a deal to denuclearize the Korean peninsula and suspend North Korea's nuclear program.
"I'd like to see it done in one meeting. But oftentimes that's not the way deals work," Trump told Reuters. "There's a very good chance that it won't be done in one meeting or two meetings or three meetings. But it'll get done at some point. It may get done really nicely and really intelligently, or it may not get done intelligently. It may have to be the hard way."
Trump added, though, that he believed Kim wanted to make a deal.
"But I think it'll get done in a very smart, organized fashion and I think that Kim Jong Un wants to see it also," Trump told Reuters. "And I'm going to be very happy when the day arrives when we can take sanctions off, and have a very good relationship with the entire Korean Peninsula."
The president added: "I look forward to seeing the letter and I look forward to June 12 where hopefully we can make progress."
Pompeo said that if talks are successful, it will be "historic."
"It would be nothing short of a tragedy to let this opportunity go to waste," Pompeo said. "We think that by working together, the [North Korean] people can create a future defined by friendship and collaboration, not by mistrust and fear and threats."
Pompeo said that it would be a "lengthy process," but that the administration hoped to convince North Korea that the "real threat" to its security is "the continuation of its nuclear program." Pompeo also said he believed that North Korean leaders are looking to integrate the country into the international community.
Fox News' Serafin Gomez and The Associated Press contributed to this report.