Poll: Texas Republicans prefer Ted Cruz, but just barely; Democrats favor Hillary Clinton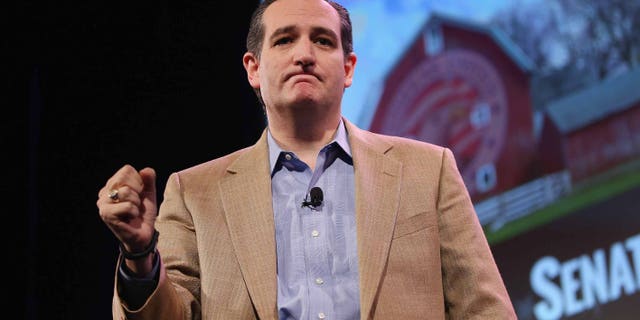 NEWYou can now listen to Fox News articles!
Sen. Ted Cruz beat out the Republican competition in a recent poll measuring the popularity of potential presidential nominees among Texas voters.
Cruz, a Tea Party conservative, emerged the favorite of 20 percent of respondents, far ahead of some of the most prominent Republicans considering running in 2016, including former Texas Gov. Rick Perry and for Florida Gov. Jeb Bush, according to the Texas Tribune, which released the poll Monday.
But he was only a point ahead of a non-Texan, Wisconsin Gov. Scott Walker, who got 19 percent, considered a statistical tie with Cruz's 20 percent.
The poll, conducted by University of Texas/Texas Tribune, shows Perry getting 8 percent and Bush 9 percent.
To be sure, though Bush is viewed as more of a son of the Sunshine State than of Texas, his family is a Lone Star State institution. His brother George W. Bush was Texas governor before he became U.S. president, and his eldest son George P. Bush is a rising star in the state, where he is the land commissioner.
Walker's 19 percent marked a huge gain for the Wisconsin governor, who got just 2 percent support in an October poll.
"It clearly is a jumble," said Daron Shaw, a professor of government at UT-Austin who co-directs the poll, according to the Tribune. "Cruz continues to distinguish himself as the Texas candidate, but Walker has made a move — we have a momentum candidate."
"That could be a mixed bag for the insurgent," Shaw said. "If you start out strong really early, the other candidates tend to turn their cannons on you."
Others came in at less than 5 percent. They included Marco Rubio of Florida, former Alaska Gov. Sarah Palin, and New Jersey Gov. Chris Christie.
Republicans and Democrats were polled separately.
As for Democrats, former first lady and Secretary of State Hillary Clinton left everyone in the dust, scooping up 62 percent, leaps ahead of second-place Elizabeth Warren, who got about 12 percent.
The online poll was conducted between Feb. 6 and Feb.15, surveying 1,200 registered voters, with an overall margin of error of 2.8 percentage points. The Republican sample polling 547 voters carries a margin of error of 4.2 percentage points, while the Democratic sample polling 401 voters has a margin of error of 4.9 percentage points.
Follow us on twitter.com/foxnewslatino
Like us at facebook.com/foxnewslatino