Politician walks back 'unqualified lesbian' slam of actress/gubernatorial candidate Cynthia Nixon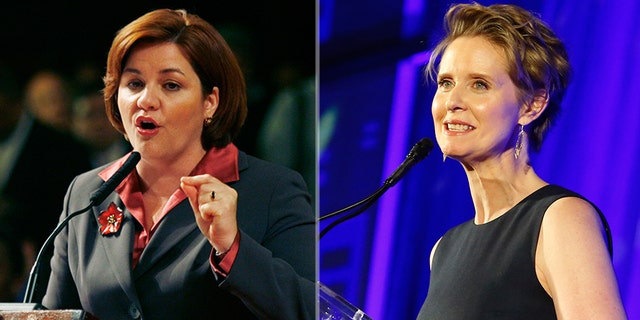 Christine Quinn, the openly gay former speaker of the New York City Council, is walking back her slam of former "Sex and the City" star Cynthia Nixon as an "unqualified lesbian" after Nixon jumped into the Democratic race for governor of New York.
"To be clear, Cynthia Nixon's identity has no bearing on her candidacy and it was not my intention to suggest it did. I want to be clear about that. I would never, EVER, criticize someone because of their identity," Quinn tweeted Tuesday.
On Monday, Quinn, a supporter of incumbent Democratic Gov. Andrew Cuomo, slammed Nixon for not backing her for mayor of New York. Should she be elected, Nixon would become both the first female governor, as well as the first openly gay governor in the state's history.
"Cynthia Nixon was opposed to having a qualified lesbian become mayor of New York City," Quinn told the New York Post. "Now she wants to be an unqualified lesbian to be the governor of New York."
'SEX AND THE CITY' STAR CYNTHIA NIXON TO CHALLENGE ANDREW CUOMO IN RACE FOR NY GOVERNOR
Nixon's challenge to Cuomo sets up an intriguing September Democratic primary race pitting an actor and liberal activist against a two-term incumbent with a $30 million war chest and possible presidential ambitions.
"We want our government to work again," Nixon said in a video announcing her candidacy. "On health care, ending massive incarceration, fixing our broken subway."
She added, "We are sick of politicians who care more about headlines and power than they do about us."
Nixon has in recent months given speeches and interviews calling on Democrats nationally to run "bluer" in 2018 and carve out a strong, progressive liberal identity rather than just being "the anti-Trump party."
The Associated Press contributed to this report.